黃升龍 Huang, Sheng-Lung
Ph.D.

, Dept. Elec. Eng., University of Maryland, College Park, 1993

M.S.

, Dept. Elec. Eng., University of Maryland, College Park, 1990

B.S.

, Dept. Elec. Eng., National Taiwan University, 1986
辦公室 : 電機二館 341
電話 : +886-2-33663692
傳真 : +8862-33663692
Email :
Office Hour : 3:00 - 5:00 pm, Friday
個人網頁 : http://laser.ee.ntu.edu.tw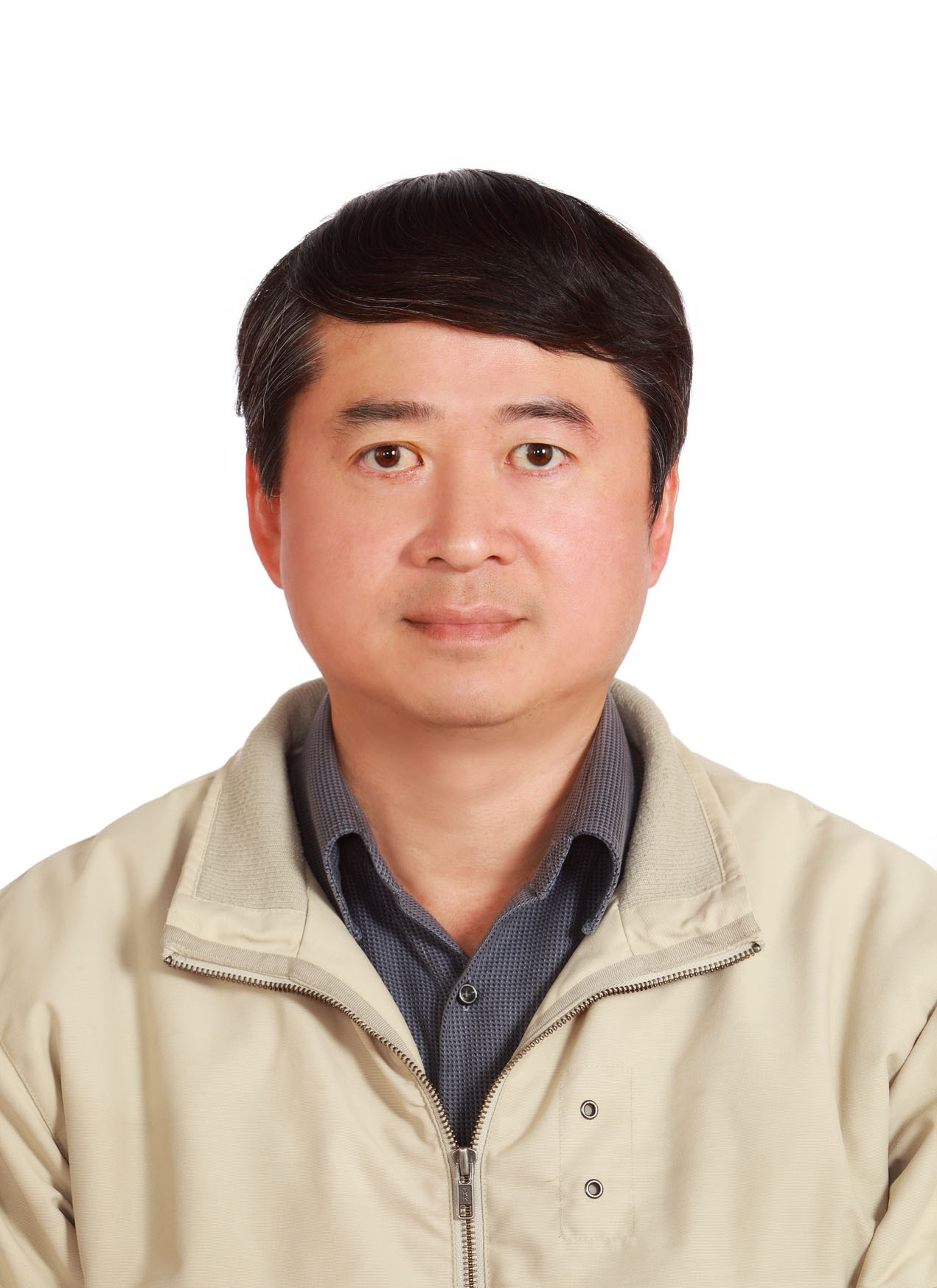 主要研究領域
晶體光纖之生長及應用, 生物醫學影像, 高功\率光纖雷射及極紫外光源之開發,
Growth and applications of crystalline fibers, Biomedical imaging, High power fiber lasers and EUV generation
---
研究領域摘要
黃教授的研究方向有以下三大主軸︰
寬頻晶體光纖光源: 包含在下世代光通訊所須之超寬頻(1.2~1.6 μm 波段)光放大器、在生醫光電所須之 (0.6~1.4 μm 波段)可調波長雷射及高亮度寬頻光源,
活體細胞級解析度生醫斷層影像: 以高速次微米三維斷層掃描儀做細胞/組織之各式定量分析,以非侵入之方式,觀察組織結構及血球細胞之活體動態影像,對各式疾病/癌症達成更精準之早期診斷,
高功率光纖雷射: 以多級光纖放大器產生高能量光脈衝,並以之研發極紫外光源之產生。
Professor Huang's research directions are:
Crystalline fiber based broadband light sources: including the next generation optical amplifier in the 1.2-1.6-μm band and the tunable laser and high-brightness emission in the 0.6-1.4-μm wavelength range,
In-vivo biomedical optical imaging: Using our proprietary crystalline fiber based optical coherence tomography system, submicron resolution has been achieved for real-time cell/tissue analyses. Dynamic bio-imaging is now utilized on organ anatomy and blood flow for early detection/diagnosis of diseases and cancers,
High power fiber laser: with the master-oscillator-power-amplifier configuration for the generation of high-energy laser pulses and EUV light source.
Dr. Sheng-Lung Huang (黃升龍) received the B.S. degree from the Department of Electrical Engineering, National Taiwan University in 1986, and the M. S. and Ph. D. degrees from the Department of Electrical Engineering, University of Maryland, College Park in 1990 and 1993, respectively.
He joined the Graduate Institute of Photonics and Optoelectronics (GIPO) and Department of Electrical Engineering, National Taiwan University in 2006. Starting 2007, he served as the Chairman of GIPO for 3 years. He was also a guest professor at the Abbe School of Photonics, Friedrich-Schiller University of Jena, Germany, 2014. Prior to joining National Taiwan University, he served as Chairman of the Institute of Electro-Optical Engineering, National Sun Yat-Sen University from 2003 to 2005.
Dr. Huang's research interest is on crystalline fiber based devices and applications. He pioneered the development of cellular-resolution optical coherence tomography, and has used it clinically on early diagnosis of cancer and diseases. His work on crystal fiber based devices and applications have been invited for more than 50 international conference talks, including Optical Fiber Conference (OFC), IEEE LEOS annual meeting, SPIE Photonics West, etc. In 2014, he co-founded a startup company, Apollo Medical Optics, and he has served as the CTO.
Dr. Huang served as Chairman of IEEE/LEOS (now IEEE/PS) Taipei Chapter, 2005/2006. He was a steering board member, European Master of Science in Photonics (EMSP). Dr. Huang has organized several international conferences and workshops, including OECC 2011 and the 2nd BioPhotonics, 2013. Dr. Huang serves as an Associate Editor of the IEEE Photonics Journal and was a Topical Editor, Optics Letters, for 6 years (2005–2011). He was a Guest Editor for Taiwan Photonics Society Quarterly in 2008.
Dr. Huang has received the Outstanding Research Award from the Ministry of Science and Technology, and the University/Industry Cooperation Award from the Ministry of Education. He has also jointly awarded Chimei Innovation Excellence Award and Optical Communications Elite Award. He is a Fellow of the OSA.
---
Journal articles & book chapters
1. P. Y. Lai, C. L. Chang, S. L. Huang, and S. H. Chen, "Compact millijoule diode-seeded two-stage fiber master oscillator power amplifiers using a multi-pass and forward pumping scheme" , Applied Optics , Vol. 57 (13) , 3551–3555-, May 2018
2. P. H. Lee, C. C. Chan, S. L. Huang, A. Chen, and H. H. Chen, "Extracting blood vessels from full-field OCT data of human skin by short-time RPCA" , IEEE Transactions on Medical Imaging , Vol. 37 (8) , 1899–1909-, Aug. 2018
3. Y. Y. Li, Y. W. Lee, T. S. Ho, J. H. Wang, I C. Wu, T. W. Hsu, Y. T. Chen, and S. L. Huang, "Spectroscopic characterization of Si/Mo thin-film stack at extreme ultraviolet range" , Optics Letters , Vol. 43 , 4029–4032-, Aug. 2018
4. Y. T. Chen, C. Y. Tsai, Y. K. Chiu, T. W. Hsu, W. L. Chen, and S. L. Huang, "En Face and cross-sectional corneal tomograms using sub-micron spatial resolution optical coherence tomography" , Scientific Reports , Vol. 8, 14349 , Sep. 2018
5. Y. Y. Li, Y. W. Lee, T. S. Ho, R. T. Wei, P. Y. Lai, K. S. Jao, I. C. Wu, S. H. Chen, and S. L. Huang, "Interferometry-based EUV spectrometer" , IEEE Photonics Journal , Vol. 9(4) , 3400108-1-3400108-8, Aug. 2017
6. C. N. Liu, T. H. Wang, T. S. Rou, N. K. Chen, S. L. Huang, and W. H. Cheng, "Higher gain of single-mode Cr-doped fibers employing optimized molten-zone growth" , IEEE/OSA Journal of Lightwave Technology , Vol. 35(22) , 4930-4936, Nov. 2017
7. C. K. Chang, C. C. Tsai, W. Y. Hsu, J. S. Chen, Y. H. Liao, Y. S. Sheen, J. B. Hong, M. Y. Lin, J. W. Tjiu, and, S. L. Huang, "Segmentation of nucleus and cytoplasm of a single cell in three-dimensional tomogram using optical coherence tomography" , Journal of Biomedical Optics , Vol. 22(3) , 036003-, 2017
8. B. K. Chen, T. Y. Chen, S. G. Hung, S. L. Huang, and J. Y. Lin, "Twin image removal in digital in-line holography based on iterative inter-projections" , Journal of Optics , Vol. 18 , 065602-, 2016
9. S. C. Wang, C. Y. Hsu, T. T. Yang, D. Y. Jheng, T. I Yang, T. S. Ho, and S. L. Huang, "Laser-diode pumped glass-clad Ti:sapphire crystal fiber laser" , Optics Letters , Vol. 41 , 3217-3220, 2016
10. C. N. Liu, G. L. Cheng, N. K. Chen, P. L. Huang, S. L. Huang, and W. H. Cheng, "Gain enhancement of single-mode Cr-doped core fibers by online growth system" , IEEE Photonics Technology Letters , Vol. 28, No. 19 , 2098-2101, 2016
11. S. C. Wang, T. I Yang, D. Y. Jheng, C. Y. Hsu, T. T. Yang, T. S. Ho, and S. L. Huang, "Broadband and high-brightness light source: Glass-clad Ti:sapphire crystal fiber" , Optics Letters , Vol. 40 , 5594-5597, Jan. 2015
12. C. N. Liu, Y. C. Huang, P. L. Huang, N. K. Chen, C. P. Yu, S. L. Huang, and W. H. Cheng, "Broadband Ce/Cr-doped crystal fibers for high axial resolution OCT light source" , Optics Express , Vol. 23 , 29723-29728, Jan. 2015
13. D. Y. Jheng, K. Y. Hsu, Y. C. Liang, and S. L. Huang, "Broadly tunable and low-threshold Cr4+:YAG crystal fiber laser" , IEEE Journal of Selected Topics in Quantum Electronics , Vol. 21 , 0900608-, Jan. 2015
14. W. L. Wang, G. L. Cheng, Y. C. Huang, C. C. Wei, N. K. Chen, S. L. Huang, and W. H. Cheng, "Single-mode Cr-doped crystalline core fibers for broadband fiber amplifiers" , IEEE Photonics Technology Letters , Vol. 27, No. 2 , 205-208, Feb. 2015
15. T. S. Ho, P. Yeh, C. C. Tsai, K. Y. Hsu, and S. L. Huang, "Spectroscopic measurement of absorptive thin films by spectral-domain optical coherence tomography" , Optics Express , Vol. 22, No. 5 , pp. 5675–5683-, Jan. 2014
16. C. L. Chang, Y. Y. Lin, P. Y. Lai, Y. Y. Li, S. H. Chen, and S. L. Huang, "High power broadband continuum source based on an all-PM-fiber master-oscillator nonlinear power amplifier" , Laser Physics , Vol. 24 , 045101-, Jan. 2014
17. C. N. Liu, Y. C. Huang, Y. S. Lin, S. Y. Wang, P. L. Huang, T. T. Shih, S. L. Huang, and W. H. Cheng, "Fabrication and characteristics of Ce-doped fiber for high-resolution OCT Source" , IEEE Photonics Technology Letters , Vol. 26, No. 15 , pp. 1499–1502-, Jan. 2014
18. W. L. Wang, G. L. Cheng, Y. C. Huang, N. K. Chen, S. L. Huang, and W. H. Cheng, "Few-mode Cr-doped fibers by cladded high index glass for broadband fiber amplifiers" , IEEE Photonics Technology Letters , Vol. 26, No. 6 , pp. 587–590-, Jan. 2014
19. C. C. Tsai, C. K. Chang, K. Y. Hsu, T. S. Ho, M. Y. Lin, J. W. Tjiu, and S. L. Huang, "Full-depth epidermis tomography using a Mirau-based full-field optical coherence tomography" , Biomedical Optics Express , Vol. 5, No. 9 , pp. 3001–3010-, Jan. 2014
20. C. L. Chang, P. Y. Lai, Y. Y. Li, Y. P. Lai, C. W. Huang, S. H. Chen, Y. W. Lee, and S. L. Huang, "Parasitic stimulated amplification in high-peak-power and diode-seeded nanosecond fiber amplifiers" , IEEE Photonics Journal , Vol. 6, No. 3 , 1500809-, Jan. 2014
21. K. Y. Hsu, M. H. Yang, D. Y. Jheng, C. C. Lai, S. L. Huang, K. Mennemann, and V. Dietrich, "Cladding YAG crystal fibers with high-index glasses for reducing the number of guided modes" , Optical Materials Express , Vol. 3, No. 6 , pp. 813-820-, Jan. 2013
22. Y. C. Huang, C. N. Liu, Y. S. Lin, J. S. Wang, W. L. Wang, F. Y. Lo, T. L Chou, S. L. Huang, and W. H. Cheng, "Fluorescence enhancement in broadband Cr-doped fibers fabricated by drawing tower" , Optics Express , Vol. 21, No. 4 , pp. 4790-4795-, Jan. 2013
23. Y. S. Lin, C. C. Lai, and S. L. Huang, "High-resolution transmission electron microscopy analysis of the microstructures of Cr4+:Y3Al5O12 double-clad crystal fibers prepared by LHPG method" , Journal of Materials Science: Materials in Electronics , Vol. 4 , pp. 911-915-, Jan. 2013
24. N. C. Cheng, T. H. Hsieh, Y. T. Wang, C. C. Lai, C. K. Chang, M. Y. Lin, D. W. Huang, J. W. Tjiu, and S. L. Huang, "Cell death detection by quantitative three-dimensional single-cell tomography" , Biomedical Optics Express , Vol. 3, No. 9 , pp. 2111-2120-, Jan. 2012
25. C. C. Lai, C. P. Ke, S. K. Liu, C. Y. Lo, D. Y. Jheng, S. C. Wang, S. R. Lin, P. S. Yeh, and S. L. Huang, "Intracavity and resonant Raman crystal fiber laser" , Applied Physics Letters , Vol. 100, 261101. , Jan. 2012
26. K. Y. Hsu, D. Y. Jheng, Y. H. Liao, T. S. Ho, C. C. Lai, and S. L. Huang, "Diode- laser-pumped glass-clad Ti:sapphire crystal fiber based broadband light source" , IEEE Photonics Technology Letters , Vol. 24, No. 10 , pp. 854-856-, Jan. 2012
27. W. L. Wang, J. S. Wang, Y. C. Huang, L. W. Liu, S. L. Huang, and Wood-Hi Cheng, "Few-mode Cr-doped crystalline core fibers for fiber amplifier" , IEEE Photonics Technology Letters , Vol. 24, No. 18 , pp. 1628-1631-, Jan. 2012
28. C. W. Huang, C. L. Chang, D. Y. Jheng, K. Y. Hsu, S. L. Huang, and D. W. Huang, "Direct side pumping of double-clad fiber laser by laser diode array through the use of subwavelength grating coupler" , IEEE Photonics Journal , Vol. 4, No. 2 , pp. 411-421-, Jan. 2012
29. S. M. Yeh, S. L. Huang, Y. J. Chiu, H. Taga, P. L. Huang, Y. C. Huang, Y. K. Lu, J. P. Wu, W. L. Wang, D. M. Kong, K. Y. Huang, J. S. Wang, P. Yeh, and W. H. Cheng, "Broadband chromium-doped fiber amplifiers for next-generation optical communication systems" , IEEE/OSA Journal of Lightwave Technology , Vol. 30, No. 6 , pp. 921-927-, Jan. 2012
30. B. K. Chen, Y. C. Ho, T. S. Hung, Y.-L. Chang, M. C. Chou, S. Y. Chen, H. H. Chu, S. L. Huang, P. H. Lin, J. Wang, J. Y. Lin, "High-brightness optical-field-ionization collisional-excitation extreme-ultraviolet lasing pumped by a 100-TW laser system in an optically preformed plasma waveguide" , Applied Physics B: Lasers and Optics , Vol. 106, No. 4 , pp. 817-822-, Jan. 2012
31. C. C. Lai, P. Yeh, S. C. Wang, D. Y. Jheng, C. N. Tsai, and S. L. Huang, "Strain-dependent fluorescence spectroscopy of nanocrystals and nanoclusters in Cr:YAG crystalline-core fibers and its impact on lasing behavior" , Journal of Physical Chemistry C , Vol. 116 , pp. 26052-26059-, Jan. 2012
32. J. Y. Yi, Y. W. Fan, and S. L. Huang, "Study of short-wavelength Yb:fiber laser" , IEEE Photonics Journal , Vol. 4, No. 6 , pp. 2278-2284-, Jan. 2012
33. C. W. Huang, C. L. Chang, C. H. Kuan, S. L. Huang, and D. W. Huang, "Side-coupling scheme for a high-power laser diode array with grating couplers: Thermal and geometrical issues" , IEEE/OSA Journal of Lightwave Technology , Vol. 30, No. 11 , pp. 1743-1749-, Jan. 2012
34. C. C. Tsai, Y. S. Lin, S. C. Pei, C. K. Chang, T. H. Chen, N. C. Cheng, M. K. Tsai, C. C. Lai, W. Y. Li, C. K. Wei, and S. L. Huang, "Micro-structural and micro-spectral characterization of vertical-aligned liquid crystal display panel" , Optics Letters , Vol. 36 , 567-569-, Jan. 2011
35. K. Y. Hsu, D. Y. Jheng, M. H. Yang, Y. S. Lin, K. Y. Huang, Y. H. Liao, and S. L. Huang, "Bi-directionally pumped Cr4+:YAG crystal fiber light source for optical coherence tomography" , Journal of the Optical Society of America B , Vol. 28 , 288-292-, Jan. 2011
36. Y. C. Huang, Y. S. Lin, J. S. Wang, W. L. Wang, H. J. Wang, S. L. Huang, and W. H. Cheng, "Study of spectroscopy and microstructure in nanocrystalline Cr-doped fibers grown by the drawing-tower technique" , Journal of Electronic Materials , Vol. 40 , 97-101-, Jan. 2011
37. C. C. Lai, C. P. Ke, S. K. Liu, D. Y. Jheng, D. J. Wang, M. Y. Chen, Y. S. Li, P. S. Yeh, and S. L. Huang, "Efficient and low-threshold Cr4+:YAG double-clad crystal fiber laser" , Optics Letters , Vol. 36 , 784-786-, Jan. 2011
38. C. L. Chang, S. L. Huang, C. Y. Lo, K. Y. Huang, C. W. Lan, W. H. Cheng, and P. Y. Chen, "Simulation and experiment on laser-heated pedestal growth of chromium-doped yttrium-aluminum-garnet single-crystal fiber" , Journal of Crystal Growth , Vol. 318 , 674-678-, Jan. 2011
39. S. C. Pei, T. S. Ho, C. C. Tsai, T. H. Chen1, Y. Ho, P. L. Huang, A. H. Kung, and S. L. Huang, "Non-invasive characterization of the domain boundary and structure properties of periodically poled ferroelectrics" , Optics Express , Vol. 19 , pp.7153-7160-, Jan. 2011
40. C. C. Lai, S. C. Wang, Y. S. Lin, T. H. Chen, and S. L. Huang, "Near-field spectroscopy of broadband emissions from γ-Al2O3 nanocrystals in Cr-doped double-clad fibers" , Journal of Physical Chemistry C , Vol. 115 , 20289-20294-, Jan. 2011
41. Y. S. Lin, T. C. Cheng, C. C. Tsai, K. Y. Hsu, D. Y. Jheng, C. Y. Lo, P. S. Yeh and S. L. Huang, "High-luminance white-light point source using Ce,Sm:YAG double-clad crystal fiber" , IEEE Photonics Technology Letters , Vol. 22 , 1494-1496-, Jan. 2010
42. C. C. Lai, Y. S. Lin, K. Y. Huang, and S. L. Huang, "Study on the core/cladding interface in Cr:YAG double-clad crystal fibers grown by the co-drawing laser heated pedestal growth method" , Journal of Applied Physics , Vol. 108 , 054308-, Jan. 2010
43. Y. C. Huang, J. S. Wang, Y. S. Lin, T. C. Lin, W. L. Wang, Y. K. Lu, S. M. Yeh, H. H. Kuo, S. L. Huang, and W. H. Cheng, "Development of broadband single-mode Cr-doped silica fibers" , IEEE Photonics Technology Letters , Vol. 22 , 914-916-, Jan. 2010
44. C. C. Tsai, T. H. Chen, Y. S. Lin, Y. T. Wang, W. Chang, K. Y. Hsu, Y. H. Chang, P. K. Hsu, D. Y. Jheng, K. Y. Huang, E. Sun, and S. L. Huang, "Ce3+:YAG double-clad crystal-fiber- based optical coherence tomography on fish cornea" , Optics Letters , Vol. 35 , 811-813-, Jan. 2010
45. S. C. Pei, T. S. Ho, T. M. Tai, L. M. Lee, J. C. Chen, A. H. Kung, F. J. Kao, and S. L. Huang, "Drawing of single crystal and glass-clad lithium tantalate fibers by the laser-heated pedestal growth method" , Journal of Applied Crystallography , Vol. 43 , 48-52-, Jan. 2010
46. J. Y. Yi, K. Y. Huang, C. C. Lai, H. Peng, L. H. Chen, and S. L. Huang, "Ytterbium- doped yttrium aluminum garnet crystal fiber multipass ring laser" , Japanese Journal of Applied Physics , Vol. 49 , 122701-, Jan. 2010
47. C. C. Lai, K. Y. Huang, H. J. Tsai, K. Y. Hsu, S. K. Liu, C. T. Cheng, K. D. Ji, C. P. Ke, S. R. Lin, and S. L. Huang, "Yb3+:YAG-silica fiber laser" , Optics Letters , Vol. 34 , 2357-, Aug. 2009
48. P. Y. Chen, C. L. Chang, K. Y. Huang, C. W. Lan, W. H. Cheng and S. L. Huang, "Experiment and simulation on interface shapes of an yttrium aluminium garnet miniature molten zone formed using the laser-heated pedestal growth method for single-crystal fibers" , Journal of Applied Crystallography , Vol. 42 , 553-, Jul. 2009
49. S. L. Huang, "Response to "Comment on 'Distribution of oxidation states of Cr ions in Ca or Ca/Mg co-doped Cr:Y3Al5O12 single crystal fibers with nitrogen or oxygen annealing environments' by C. N. Tsai et al."" , Journal of Crystal Growth , Vol. 311 , 298-, Jan. 2009
50. S. M. Yeh, J. Y. Feng, K. Y. Huang, W. J. Zhuo, Y. C. Huang, T. S. Lay, S. L. Huang, P. Yeh, and W. H. Cheng, "Transmission and coupling characteristics of ultra-broadband Cr-doped multimode fibers" , IEEE/OSA Journal of Lightwave Technology , Vol. 27 , 2834-, Jan. 2009
51. H. J. Tsai, C. C. Lai, K. Y. Huang, Z. W. Lin, K. Y. Hsu, and S. L. Huang, "Design and optimization of Cr4+:YAG double-clad crystal fiber laser" , Japanese Journal of Applied Physics , Vol. 48 , 0722021-, Jan. 2009
52. C. C. Lai, H. J. Tsai, K. Y. Huang, K. Y. Hsu, Z. W. Lin, K. D. Ji, W. J. Zhuo, and S. L. Huang, "Cr4+:YAG double-clad crystal fiber laser" , Optics Letters , Vol. 33 , 2919-2921-, Dec. 2008
53. K. Y. Huang, K. Y. Hsu, D. Y. Jheng, W. J. Zhuo, P. Y. Chen, P. S. Yeh, and S. L. Huang, "Low-loss propagation in Cr4+:YAG double-clad crystal fiber fabricated by sapphire tube assisted CDLHPG technique" , Optics Express , Vol. 16 , 12264-12271-, Jan. 2008
54. K. Y. Huang, K. Y. Hsu, and S. L. Huang, "Analysis of ultra-broadband amplified spontaneous emissions generated by Cr4+:YAG single and glass-clad crystal fibers" , IEEE/OSA Journal of Lightwave Technology , Vol. 26 , pp. 1632-1639-, Jan. 2008
55. C. N. Tsai, K. Y. Huang, H. J. Tsai, and J. C. Chen, Y. S. Lin, S. L. Huang, and Y.S. Lin, "Distribution of oxidation states of Cr ions in Ca or Ca/Mg co-doped Cr:Y3Al5O12 single crystal fibers with nitrogen or oxygen annealing environments" , Journal of Crystal Growth , Vol. 310 , pp. 2774-2779-, Jan. 2008
56. S. M. Yeh, D. J. Feng, Y. C. Huang, T. S. Lay, S. L. Huang, P. Yeh, and W. H. Cheng, "Mode matching and insertion loss in ultra-broadband Cr-doped multimode fibers" , Optics Letters , Vol. 33 , pp. 785-787-, Jan. 2008
57. C. C. Tsai, H. C. Wei, S. L. Huang, C. E. Lin, C. J. Yu, and C. Chou, "High speed interferometric ellipsometer" , Optics Express , Vol. 16 , pp.7778-7788-, Jan. 2008
58. C. N. Tsai, Y. S. Lin, K. Y. Huang, Y. S. Lin, C. C. Lai, and S. L. Huang, "Enhancement of Cr4+ Concentration in Y3Al5O12 Crystal Fiber by Pregrowth Perimeter Deposition" , Japanese Journal of Applied Physics , Vol. 47 , pp.6369-6373-, Jan. 2008
59. L. M. Lee, S. C. Pei, D. F. Lin, M. C. Tsai, T. M. Tai, P. C. Chiu, D. H. Sun, A. H. Kung, and S. L. Huang, "Generation of tunable blue/green laser using ZnO:PPLN crystal fiber by self-cascaded second order nonlinearity" , Journal of the Optical Society of America B , Vol. 24 , 1909-1915-, Aug. 2007
60. H. Taga, S. L. Huang, T. Y. Chang, and W. H. Cheng, "The 11th OptoElectronics and Communications Conference" , IEEE Communications Magazine , 44-, May 2007
61. J. C. Chen, Y. S. Lin, C. N. Tsai, K. Y. Huang, C. C. Lai, W. Z. Su, R. C. Shr, F. J. Kao, T. Y. Chang, and S. L. Huang, "400-nm-bandwidth emission from a Cr-doped glass fiber" , IEEE Photonics Technology Letters , Vol. 19 , 595-597-, Apr. 2007
62. Y. C. Huang, J. S. Wang, Y. K. Lu, W. K. Liu, K. Y. Huang, S. L. Huang, and W. H. Cheng, "Preform fabrication and fiber drawing of 300 nm broadband Cr-doped fibers" , Optics Express , Vol. 15 , pp. 14382-14388-, Jan. 2007
63. Y. C. Huang, Y. K. Lu, J. C. Chen, Y. C. Hsu, Y. M. Huang, S. L. Huang, and W. H. Cheng, "Broadband emission from Cr-doped fibers fabricated by drawing tower" , Optics Express , Vol. 14 , pp.8492-8497-, Sep. 2006
64. J. Y. Yi, L. H. Chen, and S. L. Huang, "Efficient and compact Yb:YAG ring laser" , IEEE Journal of Quantum Electronics , Vol. 42 , pp. 791-796-, Aug. 2006
65. J. C. Chen, K. Y. Huang, C. N. Tsai, Y. S. Lin, C. C. Lai, G. Y. Liu, F. J. Kao, and S. L. Huang, C. Y. Lo, Y. S. Lin, and P. Shen, "Composition dependence of the micro-spectroscopy of Cr ions in double-clad Cr:YAG crystal fiber" , Journal of Applied Physics , Vol. 99 , 093113-, May 2006
66. Y. S. Lin, C. C. Lai, K. Y. Huang, J. C. Chen, C. Y. Lo, S. L. Huang, T. Y. Chang, J. Y. Ji, and P. Shen, "Nanostructure formation of double-clad Cr4+:YAG crystal fiber grown by co-drawing laser-heated pedestal" , Journal of Crystal Growth , Vol. 289 , pp. 515-519-, Jan. 2006
67. W. K. Kuo, C. H. Pai, S. L. Huang, H. Y. Chou, and H. S. Huang, "Electro-optic mapping systems of electric-field using CW laser diodes" , Optics & Laser Technology , Vol. 38 , pp. 111-116-, Jan. 2006
68. H. T. Tuan and S. L. Huang, "The analysis of reentrant two-mirror non-planar ring laser cavity" , Journal of the Optical Society of America A , Vol. 22 , pp. 2476-2482-, Jan. 2005
69. J. Y. Ji, P. Shen, J. C. Chen, F. J. Kao, S. L. Huang, and C.Y. Lo, "On the deposition of Cr3-O4 spinel particles upon laser heated pedestal growth of Cr:YAG fiber" , Journal of Crystal Growth , Vol. 282 , pp.343-352-, Jan. 2005
70. L. M. Lee, T. S. Chou, J. C. Chen, S. L. Huang, Y. C. Cho, C. C. Kuo, and H. W. Lee, "In-situ poling of MgO doped lithium niobate crystal fiber by modulation of pyroelectric field" , Optics Communications , Vol. 253 , pp. 375-381-, Jan. 2005
71. J. Y. Yi and S. L. Huang, "Planar multipass ring laser cavity" , Japanese Journal of Applied Physics , Vol. 44 , Part 1, No. 3, pp. 1272-1277-, Jan. 2005
72. J. C. Chen, C. Y. Lo, K. Y. Huang, F. J. Kao, S. Y. Tu, and S. L. Huang, "Fluorescence mapping of oxidation states of Cr ions in YAG crystal fibers" , Journal of Crystal Growth , Vol. 274 , pp. 522-529-, Jan. 2005
73. C. Y. Lo, K. Y. Huang, J. C. Chen, C. Y. Chuang, C. C. Lai, S. L. Huang, Y. S. Lin, and P. S. Yeh, "Double-clad Cr4+:YAG crystal fiber amplifier" , Optics Letters , Vol. 30 , pp. 129-131-, Jan. 2005
74. C. Y. Lo, K. Y. Huang, J. C. Chen, S. Y. Tu, and S. L. Huang, "Glass-clad Cr4+:YAG crystal fiber for the generation of super-wideband amplified spontaneous emission" , Optics Letters , Vol. 29 , pp. 439-441-, Jan. 2004
75. P. L. Huang, C. J. Weng, H. T. Tuan, S. C. Pei, Y. H. Chang, and S. L. Huang, "Polarization analysis of a nonplanar reentrant ring laser cavity" , Japanese Journal of Applied Physics , Vol. 42 , Part 1, No. 6A, pp.3403-3408-, Jan. 2003
76. S. L. Huang, Y. H. Chen, P. L. Huang, J. Y. Yi, and H. Z. Cheng, "Multi-reentrant non-planar ring laser cavity" , IEEE Journal of Quantum Electronics , Vol. 38 , No.10, pp. 1301-1308-, Jan. 2002
77. C. Y. Lo, P. L. Huang, T. S. Chou, L. M. Lee, T. Y. Chang, S. L. Huang, L. C. Lin, H. Y. Lin, and F. C. Ho, "Efficient Nd:YAG crystal fiber laser" , Japanese Journal of Applied Physics , Vol. 41 , Part 2, No. 11A, L1228-1231-, Jan. 2002
78. C. W. Wang, Y. L. Weng, P. L. Huang, H. Z. Cheng, and S. L. Huang, "Passively Q-switched and intracavity frequency-doubled blue laser" , Applied Optics , Vol. 41 , No. 6, pp. 1075-1081-, Jan. 2002
79. F. J. Kao, J. C. Chen, S. C. Shih, A. Wei, S. L. Huang, T. S. Horng, and P. Torok, "Optical beam induced current microscopy at DC and radio frequency" , Optics Communications , Vol. 211 , pp. 39-45-, Jan. 2002
80. P. L. Huang, C. R. Weng, H. Z. Cheng, and S. L. Huang, "A passively Q-switched laser constructed by a two-mirror reentrant ring cavity" , Japanese Journal of Applied Physics , Vol. 40 , Part 2, No. 5B, L508-510-, Jan. 2001
81. W. K. Kuo, W. H. Chen, Y. T. Huang, and S. L. Huang, "Two-dimensional electrical-field vector measurement by a LiTaO3 electro-optic probe tip" , Applied Optics , Vol. 39 , No. 9, pp. 4985-4993-, Jan. 2000
82. W. H. Chen, W. K. Kuo, S. L. Huang, and Y. T. Huang, "On-wafer electro-optic probing using rotational deformation modulation" , IEEE Photonics Technology Letters , Vol. 12 , No. 9, pp. 1228-1230.-, Jan. 2000
83. H. Z. Cheng, P. L. Huang, S. L. Huang, and F. J. Kao, "Reentrant 2-mirror ring resonator for generation of a single frequency green laser" , Optics Letters , Vol. 25 , pp. 542-544-, Jan. 2000
84. S. L. Huang, J. W. Lin, C. C. Kang, and H. Z. Cheng, "Diode-laser pumped high-power and actively mode-locked Nd:YLF laser with fast switching" , Optical and Quantum Electronics , Vol. 32 , pp. 609-617-, Jan. 2000
85. W. K. Kuo, Y. T. Huang, and S. L. Huang, "Three-dimensional electric field vector measurement by electro-optic prober" , Optics Letters , Vol. 24 , pp. 1546-1548.-, Jan. 1999
86. F. J. Kao, M. K. Huang, Y. S. Wang, S. L. Huang, M. K. Lee, and C. K. Sun, "Two-photon optical beam induced current imaging of InGaN blue LEDs" , Optics Letters , Vol. 24 , pp. 1407-1409-, Jan. 1999
87. J. W. Lin, S. L. Huang, and F. J. Kao, "Self-phase modulation and fast switching enhanced pulse generation in an actively mode-locked Nd:YLF laser" , Optics Communications , Vol. 161 , pp. 37-41-, Jan. 1999
88. S. L. Huang, T. Y. Tsui, C. H. Wang, and F. J. Kao, "Timing jitter reduction of a passively Q-switched laser" , Japanese Journal of Applied Physics , Vol. 38 , Part 2, No. 3A, L239-241-, Jan. 1999
89. S. L. Huang, W. L. Wu, and P. L. Huang, "Measurement of temperature gradient in diode-laser-pumped high-power solid-state laser by low-coherence reflectometry" , Applied Physics Letters , Vol. 73 , No. 23, pp.3342-3344-, Jan. 1998
90. W. L. Wu and S. L. Huang, "Low-coherence reflectometry of thermal properties in diode-laser-pumped high power solid-state laser" , IEEE Photonics Technology Letters , Vol. 10 , No. 6, pp. 851-853-, Jan. 1998
91. S. L. Huang, F. J. Kao, H. S. Hsieh, and C. S. Hsu, "Polarization-dependent periodic pulse oscillation in a diode-laser-pumped and intracavity-frequency-doubled Nd:YVO4 laser" , Applied Optics , Vol. 37 , No. 12, pp. 2397-2401-, Jan. 1998
92. W. K. Kuo, S. L. Huang, T. S. Horng, and L. C. Chang, "Two-dimensional mapping of Eeectric-field vector by electro-optic prober" , Optics Communications , Vol. 149 , pp. 55-60-, Jan. 1998
93. F. J. Kao, S. Y. Chou, S. L. Huang, S. A. Chen, K. R. Chuang, and W. Fann, "Imaging photo-induced reaction of poly (p-phenylenevinylene) thin films by a spectrally resolved laser scanning microscope" , Japanese Journal of Applied Physics , Vol. 37 , Part 1, No. 8, pp.4409-4411-, Jan. 1998
94. S. L. Huang, F. J. Kao, L. R. Liu, and C. S. Hsu, "Frequency-offsetted cavity-length control loop in a diode-laser-pumped and actively mode-Locked Nd:YLF Laser" , Optics Communications , Vol. 134 , pp. 171-174-, Jan. 1997
95. S. L. Huang, K. C. Lee, P. J. Tsai, J. Y. Lin, W. J. Chen, and J. S. Lin, "Experimental study of coplanar strip-line based high-speed device interconnect" , Materials Chemistry and Physics , Vol. 45 , pp. 67-70-, Jan. 1996
96. S. L. Huang and C. H. Lee, invited, "Ultrafast optomicrowave interaction" , Optoelectronics Devices and Technologies , Vol. 10 , No.4, pp.461-476-, Jan. 1995
97. S. L. Huang, C. H. Lee, and H-L. A. Hung, "Real-time network analysis using photoconductive mixer and samplers" , IEEE Transactions on Microwave Theory & Tech. , Vol. MTT-43 , pp. 1281-1289-, Jan. 1995
98. S. L. Huang, C. H. Lee, and H-L. A. Hung, "Optical controlled generation and true-time-delay phase-shifts of broadband 60 GHz signals" , IEEE Microwave and Guided Wave Letters , Vol. 3 , pp. 42-44-, Jan. 1993
99. S. L. Huang, E. A. Chauchard, C. H. Lee, H-L. A. Hung, T. T. Lee, and T. Joseph, "On-wafer photoconductive sampling of MMICs" , IEEE Transactions on Microwave Theory & Tech. , Vol. MTT-40 , pp. 2312-2320-, Jan. 1992
---
Conference & proceeding papers:
1. C. K. Chang and S. L. Huang, invited, "In vivo nuclei segmentation of human skin using optical coherence tomography" , 9th Anniversary World DNA Day , Dalian, China , 2018
2. C. K. Chang, J. W. Tjiu, and S. L. Huang, invited, "In vivo nucleus segmentation of human skin using full-field optical coherence tomography" , OSA Biophotonics Congress- Microscopy, Histopathology and Analytics , Florida, U.S.A. , 2018
3. R. Soundararajan, C. K. Chang, P. J. Liao, Y. Y. Li, T. I Yang, Y. W. Lee, and S. L. Huang, invited, "Optical coherence tomography-from micron to nanometer resolution" , The 7th International Symposium on Next-Generation Electronics (IEEE-ISNE 2018) , Taiwan , 2018
4. S. L. Huang and J. W. Tjiu, invited, "In-vivo 3D human skin imaging using crystalline fiber based optical coherence tomography" , Global Summit & Expo on Laser Optics & Photonics , Rome, Italy , 2018
5. Y. Y. Lee, I C. Wu, Y. W. Lee, and S. L. Huang, invited, "Optical side-coupling of laser-diode array to fiber using genetic algorithm designed sub-wavelength grating" , OECC , Korea , 2018
6. Y. H. Lin, J. W. Tjiu, P. S. Yeh, and S. L. Huang, invited, "Functional optical coherence tomography on human skin with cellular resolution" , Congress of Molecular & Cell Biology , Xian, China , 2017
7. S. L. Huang, plenary speech, "Glass-clad YAG and sapphire crystalline fibers and applications" , The 9th Symposium on Functional Glasses , Fuzhou, China , 2017
8. S. C. Wang, T. I Yang, and S. L. Huang, invited, "Ti:sapphire crystal fibers- from laser and broadband device to applications" , EMN Optoelectronics Meeting , Victoria, Canada , 2017
9. Y. K. Chiu, W. L. Chen, C. T. Tsai, C. H. Yang, and S. L. Huang, "A high en-face resolution AS-OCT providing quantitative ability to measure layered corneal opacities" , European Conferences on Biomedical Optics (ECBO) , Munich, Germany , 2017
10. S. L. Huang, keynote speech, "Ti:sapphire crystal fiber- from broadband devices to biomedical imaging" , Global Summit on Laser Optics & Photonics , Valencia, Spain , 2017
11. Y. H. Lin, R. Soundararajan, J. W. Tjiu, P. S. Yeh, and S. L. Huang, "Functional optical coherence tomography on in-vivo human skin with cellular resolution" , CLEO-Pacific Rim, OECC, and PGC , Singapore , 2017
12. S. L. Huang, invited, "Cellular-resolution optical coherence tomography for real-time virtual biopsy on human skin" , EMN Meeting on Photonics , Budapest, Hungary , 2017
13. S. C. Wang, T. I Yang, D. Y. Jheng, C. Y. Hsu, T. T. Yang, P. S. Yeh, and S. L. Huang, invited, "Efficient crystalline fiber lasers and broadband emissions" , SPIE Photonics West , San Francisco, CA, U.S.A. , 2016
14. S. C. Wang, T. T. Yang, T. I Yang, T. S. Ho, and S. L. Huang, "Laser-diode-pumped tunable Ti:sapphire crystal fiber laser" , Conf. on Lasers and Electro-Optics (CLEO) , San Jose, CA, U.S.A. , 2016
15. Y. H. Lin, S. C. Wang , D. Y. Wu, Jeng-Wei Tjiu, and S. L. Huang, "Functional cellular-resolution optical coherence tomography using high-brightness crystalline fiber sources" , 25th Annual International Laser Physics Workshop (LPHYS) , Yerevan, Armenia , 2016
16. S. C. Wang, T. I Yang, P. S. Yeh, and S. L. Huang, invited, "Cladding formation of sapphire and YAG crystalline fibers" , Collaborative Conference on Crystal Growth , Donostia-San Sebastian, Spain , 2016
17. P.-H. Lee, C.-C. Chan, S. L. Huang, A. Chen, and H. H. Chen, "Blood vessel extraction from OCT data by short-time RPCA" , Proc. IEEE Int. Conf. Image Process. , 2016
18. T. S. Rou, C. N. Liu, K. J. Jhang, W. H. Cheng, N. K. Chen, and S. L. Huang, "Study of single mode Cr-doped fibers using on-line growth system for fiber amplifiers" , OPTIC , Taipei, Taiwan , 2016
19. Y. Y. Li, Y. W. Lee, I C. Wu, and S. L. Huang, "EUV spectrometer based on Fabry-Perot-like interferometer" , OPTIC , Taipei, Taiwan , 2016
20. J. H. Wang, T. T. Yang, S. C. Wang, and S. L. Huang, "Efficient Ti:sapphire crystal fiber laser with 183-nm tuning range" , OPTIC , Taipei, Taiwan , 2016
21. Y. Y. Li, I C. Wu, Y. W. Lee, and S. L. Huang, "Spectroscopic characterization of Si/Mo thin-film stack at extreme ultraviolet range" , OPTIC , Taipei, Taiwan , 2016
22. J. Y. Wu, W. L. Jiang, S. C. Wang, and S. L. Huang, "Integration of cellular resolution OCT with Raman spectroscopy for molecular specificity" , OPTIC , Taipei, Taiwan , 2016
23. C. T. Tsai, Y. K. Chiu, Y. H. Lin, C. C. Wang, C. H. Yang, and S. L. Huang, "In-vivo rat corneal measurement using Mirau-based full-field OCT" , OPTIC , Taipei, Taiwan , 2016
24. T. I Yang, H. T. Liu, S. C. Wang, and S. L. Huang, "Ceramic and crystal cladding formation for Ti:sapphire crystal fiber" , OPTIC , Taipei, Taiwan , 2016
25. S. C. Wang, T. T. Yang, Y. H. Lin, T. I Yang, and S. L. Huang, invited, "Ti:sapphire crystal fiber- from broadband devices to applications" , OPTIC , Taipei, Taiwan , 2016
26. C. K. Chang, C. C. Tsai, M. T. Chien, Y. I Li, C. T. Shun, and S. L. Huang, "Web-based 3D digital pathology framework for large-mapping data scanned by FFOCT" , SPIE Medical Imaging , Florida, U.S.A. , 2015
27. T. S. Ho and S. L. Huang, "Absorptive thin film characterization by broadband optical coherence tomography" , The 2nd International Symposium on Optical Coherence Tomography for Non-Destructive Testing , Dresden, Germany , 2015
28. C. N. Liu, Y. C. Huang, P. L. Huang, S. L. Huang, and W. H. Cheng, "Ce-doped Fibers with High Axial Resolution for Optical Coherence Tomography Applications" , Conf. on Lasers and Electro-Optics (CLEO) , San Jose, CA, U.S.A. , 2015
29. S. C. Wang, C. Y. Hsu, D. Y. Jheng, T. S. Ho, T. I Yang; Y. Xu, and S. L. Huang, "Glass-clad Ti:sapphire crystal fiber laser" , Conf. on Lasers and Electro-Optics (CLEO) , San Jose, CA, U.S.A. , 2015
30. D. Y. Jheng, S. C. Wang, T. S. Ho, T. I Yang, K. Y. Hsu, and S. L. Huang, invited, "Broadband tunable laser and high-brightness light sources" , The 4th International Symposium on Next-Generation Electronics (IEEE-ISNE 2015) , Taiwan. , 2015
31. T. S. Ho, J. W. Tjiu, M. T. Chien, D. Y. Wu, C. K. Chang, P. S. Yeh, Y. I Li, C. T. Shun, and S. L. Huang, invited, "Functional optical coherence tomography on human skin with cellular resolution" , The 3rd International Conference on BioPhotonics , Florence, Italy. , 2015
32. J. W. Tjiu, M. T. Chien, D. Y. Wu, Y. I Li, C. T. Shun, and S. L. Huang, invited, "Tissue segmentation by discriminant analysis with cellular resolution" , Digital Pathology Congress Asia , Kuala Lumpur, Malaysia , 2015
33. S. P. Yang, Y. Y. Li, I C. Wu, B. S. Tsai, Y. W. Lee, and S. L. Huang, "Efficient side-coupling of LD array into 250-μm double-clad fiber using sub-wavelength grating" , OPTIC , Hsinchu, Taiwan , 2015
34. D. Ji, M. T. Chien, M. Y. Lin, J. W. Tjiu, and S. L. Huang, "Evaluation of scattering features for tissue segmentation using an OCT with submicron resolution" , OPTIC , Hsinchu, Taiwan , 2015
35. Y. K. Chiu, S. T. Chen, C. C. Wang, C. H. Yang, S. C. Wang, and S. L. Huang, "In vivo rat cornea characterization using a high resolution OCT" , OPTIC , Hsinchu, Taiwan , 2015
36. Y. H. Lin, D. Y. Wu, T. T. Yang, S. C. Wang, and S. L. Huang, "Ti:sapphire crystal fiber based full-field OCT on dermis/epidermis junction measurement" , OPTIC , Hsinchu, Taiwan , 2015
37. S. L. Huang, invited, "Toward optical biopsy: translation from benchtop to the bedside" , IMEC Technology Forums , Taiwan , 2015
38. S. L. Huang, invited, "In-vivo optical coherence tomography on human skin with cellular resolution" , Medica- Taiwan Medical Electronics and Nanotechnology Forum , Dusseldorf, Germany , 2014
39. C. C. Tsai, T. S. Ho, C. K. Chang, K. Y. Hsu, M. Y. Lin, J. W Tjiu, and S. L. Huang, invited, "Cellular-resolution optical coherence tomography" , Latin American Optics and Photonics (LAOP) , Cancun, Mexico , 2014
40. K. Y. Hsu, D. Y. Jheng, S. C. Wang, T. S. Ho, T. I Yang, and S. L. Huang, and P. S. Yeh, invited, "Crystal fibers based broadband emissions and lasers" , IEEE Photonics Conference (IPC) , San Diego, U.S.A. , Jan. 2014
41. C. C. Tsai, C. K. Chang, K. Y. Hsu, T. S. Ho, Y. T. Wang, M. Y. Lin, J. W. Tjiu, and S. L. Huang, "In vivo 3-D cellular level imaging using Mirau-based full-field optical coherence tomography on skin tissue" , Biomedical Optics (BIOMED) , Miami, U.S.A. , Jan. 2014
42. G. L. Cheng, W. L. Wang, C. W. Chuang, Y. C. Huang, J. S. Wang, S. L. Huang, and W. H. Cheng, "Clad Cr-doped crystalline core fiber by high index glass" , OPTIC , Chung-Li, Taiwan. , Jan. 2014
43. S. Y. Wang, C. N. Liu, Y. C. Huang, T. L. Chou, S. L. Huang, and W. H. Cheng, "Study of Ce-doped fibers with rod-in-tube by drawing tower technique" , OPTIC , Chung-Li, Taiwan , Jan. 2014
44. K. Y. Hsu, D. Y. Jheng, S. C. Wang, S. L. Huang, Y. W. Lee, P. S. Yeh, and M. Dubinskii, invited, "Toward single-mode crystalline fiber laser and amplifier" , CLEO-PR & OECC/PS , Kyoto, Japan , Jul. 2013
45. T. S. Ho, C. C. Tsai, Y. T. Wang, K. Y. Hsu, D. Y. Jheng, and S. L. Huang, invited, "Broadband crystalline fiber based light sources for non-invasive sensing" , 6th IEEE International Conference on Advanced Infocomm Technology (ICAIT) , Hsinchu, Taiwan , Jul. 2013
46. W. H. Cheng, Y. C. Huang, S. L. Huang, H. Taga, Y. J. Chiu, invited, "300-nm broadband chromium-doped fiber amplifiers" , Conference on Optical Fiber Communications (OFC) , Anaheim, CA, U.S.A. , Mar. 2013
47. C. N. Liu, Y. C. Huang, Y. S. Lin, J. S. Wang, F. Y. Lo, W. L. Wang, T. L. Chou, P. L. Huang, S. L. Huang, W. H. Cheng, "Broadband fluorescence enhancement in Cr-doped fibers" , Conference on Optical Fiber Communications (OFC) , Anaheim, CA, U.S.A. , Mar. 2013
48. K. Y. Hsu, C. C. Tsai, D. Y. Jheng, T. S. Ho, and S. L. Huang, "Glass-clad crystalline fibers based broadband light sources" , First International Symposium on Optical Coherence Tomography for Non-Destructive Testing , Linz, Austria , Feb. 2013
49. K. Y. Hsu, D. Y. Jheng, S. C. Wang, C. C. Tsai, T. S. Ho, S. L. Huang, and P. S. Yeh, invited, "Crystalline fiber based broadband light sources" , Asia Communications and Photonics Conference and International Conference on Information Photonics and Optical Communications (A , Beijing, China , Jan. 2013
50. S. L. Lin, Y. W. Lee, K. Y. Hsu, C. W. Huang, and S. L. Huang, "Design of resonantly Side-pumped 1645-nm Er:YAG crystal fiber lasers with grating couplers" , CLEO-PR & OECC/PS , Japan , Jan. 2013
51. K. Y. Hsu, M. H. Yang, D. Y. Jheng, S. L. Huang, K. Mennemann, V. Dietrich, and M. Dubinskii, "Single crystalline YAG-core fiber with a lanthanum dense flint glass cladding" , CLEO-PR & OECC/PS , Japan , Jan. 2013
52. C. C. Tsai, M. Y. Lin, C. K. Chang, J. W. Tjiu, and S. L. Huang, "Epidermal cell classification via Mirau-based full-field optical coherence tomography" , CLEO-PR & OECC/PS , Japan , Jan. 2013
53. F. Y. Lo, C. N. Liu, Y. C. Huang, W. L. Wang, Y. S. Lin, T. L. Chou, Pi-Ling Huang, S. L. Huang, and W. H. Cheng, "Fabrication of Ce-doped fibers by using rod-in-tube technique with drawing tower" , CLEO-PR & OECC/PS , Japan , Jan. 2013
54. C. C. Lai, S. L. Huang, S. H. Wang, W. C. Ho, S. K. Liu, and C. N. Tsai, "Strongly enhancing Cr4+ broadband emissions in strained crystalline core of Cr:YAG doubled-clad fiber amplifier" , CLEO-PR & OECC/PS , Japan , Jan. 2013
55. N. C. Cheng, C. C. Lai, J. W. Tjiu, M. Y. Lin, S. L. Huang, and D. W. Huang, "Identification of malignant melanoma by three-dimensional single-cell tomography" , CLEO-PR & OECC/PS , Japan , Jan. 2013
56. P. Y. Lai, C. L. Chang , S. L. Huang, and S. H. Chen, "Influences of amplified spontaneous emission on fiber laser amplifier chain" , CLEO-PR & OECC/PS , Japan , Jan. 2013
57. S. L. Huang, invited, "Toward clinical 3D and label-free cell tomography" , PSC Annual Meeting , Palo Alto, U.S.A. , Jan. 2013
58. C. C. Tsai, Y. T. Wang, T. S. Ho, M. Y. Lin, J. W. Tjiu, K. Y. Hsu, C. K. Chang, S. L. Huang, "Mirau-based full-field time-domain optical coherence tomography using Ce3+:YAG crystal fiber" , European Conferences on Biomedical Optics (ECBO) , Munich, Germany , Jan. 2013
59. N. C. Cheng, C. C. Tsai, T. S. Ho, M. Y. Lin, J. W. Tjiu, and S. L. Huang, "Non-invasive single cell tomography on skin cells" , Optics in the Life Sciences , Kona, Hawaii, U.S.A. , Jan. 2013
60. C. L. Chang, P. Y. Lai, Y. Y. Li, S. H. Chen, and S. L. Huang, "A high peak power nanosecond ytterbium-doped all fiber MOPA system at high repetition rate" , OPTIC , Taipei, Taiwan. , Dec. 2012
61. C. C. Lai, P. Yeh, S. C. Wang, D. Y. Jheng, C. N. Tsai, and S. L. Huang, "Studies of localized radial strain distribution and its impact on the broadband emission cross section of Cr4+:YAG crystalline-core fiber" , OPTIC , Taipei, Taiwan , Dec. 2012
62. C. C. Tsai and S. L. Huang, "Ultrahigh resolution 3-D height and refractive index profiles simultaneously by Mirau-based optical coherence tomography" , OPTIC , Taipei, Taiwan , Dec. 2012
63. N. C. Cheng, T. H. Hsieh, Y. T. Wang, C. C. Lai, M. Y. Lin, D. W. Huang, J. W. Tjiu, and S. L. Huang, "Discriminating keratinocytes and fibroblasts by parametric three- dimensional single-cell tomography" , OPTIC , Taipei, Taiwan , Dec. 2012
64. C. C. Tsai and S. L. Huang, "Inner image of housefly compound eye by Mirau based Ultra-high spatial resolution optical coherence tomography" , OPTIC , Taipei, Taiwan , Dec. 2012
65. T. S. Ho, C. C. Tsai, and S. L. Huang, "Simultaneous measurement of complex refractive index and thickness of absorptive film by spectroscopic optical coherence tomography" , OPTIC , Taipei, Taiwan , Dec. 2012
66. F. Y. Lo, C. N. Liu, Y. C. Huang, J. S. Wang, S. L. Huang, and W. H. Cheng, "Study of Cr-doped fibers using powder-in-tube with redrawing technique" , OPTIC , Taipei, Taiwan , Dec. 2012
67. C. W. Chuang, W. L. Wang, L. W. Liu, S. L. Huang, J. S. Wang, Y. C. Huang, P. L. Huang, and W. H. Cheng, "Fabrication and optical property of few-mode Cr4+:YAG double- clad crystal fiber" , OPTIC , Taipei, Taiwan , Dec. 2012
68. Y. P. Lai, P. Y. Lai, C. L. Chang, S. H. Chen, and S. L. Huang, "A simplified spherical-symmetry simulation model for 13.5-nm EUV generation from laser-produced plasmas" , OPTIC , Taipei, Taiwan , Dec. 2012
69. P. Y. Lai, C. L. Chang, S. L. Huang, and S. H. Chen, "Numerical study of characteristic pulsed amplification in ytterbium-doped fiber amplifiers" , OPTIC , Taipei, Taiwan , Dec. 2012
70. S. L. Lin, Y. W. Lee, C. W. Huang, K. Y. Hsu, and S. L. Huang, "Design of grating coupler for resonantly side-pumped 1645-nm Er:YAG crystal fiber laser" , OPTIC , Taipei, Taiwan , Dec. 2012
71. C. N. Tsai, S. L. Huang, W. C. Ho, C. C. Lai, D. Y. Jheng, and C. T. Hsieh, "Effects of perimeter deposition and annealing for Cu ions in-diffusion in Cr4+:YAG single crystal fiber" , OPTIC , Taipei, Taiwan , Dec. 2012
72. K. Y. Hsu, D. Y. Jheng, S. C. Wang, T. S. Ho, Y. W. Lee, and S. L. Huang, "Toward single-mode crystalline fiber lasers" , Advanced Laser Material Development in the Asia-Pacific Rim , Adelaide, Australia , Nov. 2012
73. C. C. Lai, K. Y. Hsu, C. W. Huang, D. Y. Jheng, S. C. Wang, S. L. Lin, M. H. Yang, D. W. Huang, and S. L. Huang, invited, "Glass-clad single crystalline fiber lasers" , SPIE Defense, Security, and Sensing , Baltimore, MD, U.S.A , Jan. 2012
74. C. L. Chang, Y. Y. Li, Y. P. Lai, S. L. Lin, Y. W. Lee, and S. L. Huang, "Development of a high repetition rate 4-stage fiber MOPA for EUV generation" , International Symposium on Physics and Applications of Laser Dynamics , Tainan, Taiwan , Jan. 2012
75. K. Y. Hsu, S. C. Wang, D. Y. Jheng, T. S. Ho, C. C. Lai, S. L. Huang, and P. S. Yeh, "Broadband emission from diode-laser-pumped Ti:sapphire crystal fibers" , 32nd Progress in Electromagnetics Research Symposium (PIERS) , Moscow, Russia , Jan. 2012
76. J. Y. Yi, Y. W. Fan, and S. L. Huang, "Short-wavelength Yb:fiber laser" , OptoElectronics and Communications Conference (OECC) , Korea , Jan. 2012
77. D. Y. Jheng, C. C. Lai, K. Y. Hsu, Y. S. Lin, Y. J. Chen, and S. L. Huang, "External-cavity Cr4+:YAG double-clad crystal fiber laser" , Conf. on Lasers and Electro-Optics (CLEO) , San Jose, CA, U.S.A. , Jan. 2012
78. K. Y. Hsu, M. H. Yang, D. Y. Jheng, C. C. Lai, S. L. Huang, K. Mennemann, and V. Dietrich, "Few-mode YAG crystal fiber cladded by high-index glass" , Conf. on Lasers and Electro-Optics (CLEO) , San Jose, CA, U.S.A. , Jan. 2012
79. D. Y. Jheng, K. Y. Hsu, and S. L. Huang, "Impact of angular deviation of specular reflection on few-mode fiber near Brewster angle cut" , Conf. on Lasers and Electro-Optics (CLEO) , San Jose, CA, U.S.A. , Jan. 2012
80. C. W. Huang, C. L. Chang, D. W. Huang, and S. L. Huang, "Distributed 100-W side launching by using single laser diode stack" , Conf. on Lasers and Electro-Optics (CLEO) , San Jose, CA, U.S.A. , Jan. 2012
81. N. C. Cheng, T. H. Hsieh, C. C. Lai, J. W. Tjiu, M. Y. Lin, D. W. Huang, and S. L. Huang, "Apoptosis detection at cellular level by quantitative three-dimensional imaging" , Conf. on Lasers and Electro-Optics (CLEO) , San Jose, CA, U.S.A. , Jan. 2012
82. Y. T. Wang, M. K. Tsai, C. K. Chang, C. C. Tsai, and S. L. Huang, "Numerical dispersion compensation for optical coherence tomography on 3D microstructure" , Conf. on Lasers and Electro-Optics (CLEO) , San Jose, CA, U.S.A. , Jan. 2012
83. T. S. Ho, N. C. Cheng, C. K. Chang, K. Y. Hsu, D. Y. Jheng, Y. T. Wang, Y. S. Lin, C. C. Lai, S. C. Wang, S. L. Huang, and J. W. Tjiu, invited, "Glass-clad crystal fibers based ultrahigh resolution optical coherence tomography" , OptoElectronics and Communications Conference (OECC) , Kaohsiung, Taiwan , Jan. 2011
84. T. S. Ho, N. C. Cheng, C. K. Chang, K. Y. Hsu, D. Y. Jheng, Y. T. Wang, Y. S. Lin, C. C. Lai, P. L. Huang, S. L. Huang, P. S. Yeh, and J. W. Tjiu, invited, "Glass-clad crystal fibers based functional optical coherence tomography" , BioPhotonics , Parma, Italy , Jan. 2011
85. D. Y. Jheng, K. Y. Hsu, Y. J. Chen, and S. L. Huang, "Design on double-clad crystal fiber based external cavity laser" , International Photonics Conference (IPC) , Tainan, Taiwan , Jan. 2011
86. C. N. Liu, Y. C. Huang, K. M. Chu, W. L. Wang, T. L. Chou, J. S. Wang, S. L. Huang, and W. H. Cheng, "Study of Cr- doped fibers with powder-in-tube by drawing-tower technique" , International Photonics Conference (IPC) , Tainan, Taiwan , Jan. 2011
87. C. L. Chang, Y. Y. Li, Y. W. Lee, Y. P. Lai, and S. L. Huang, "High performance nanosecond core-pumped ytterbium doped fiber preamplifier module in all-fiber propagation" , International Photonics Conference (IPC) , Tainan, Taiwan , Jan. 2011
88. Y. T. Wang, M. K. Tsai, C. K. Chang, C. C. Tsai, and S. L. Huang, "Resolution enhancement with numerical dispersion compensation in optical coherence tomography" , International Photonics Conference (IPC) , Tainan, Taiwan , Jan. 2011
89. C. N. Tsai, S. L. Huang, S. H. Wang, C. C. Lai, C. H. Zhou, W. C. Ho, and J. T. Sie, "Effect of strained core in Cr:YAG doubled-clad crystal fiber with perimeter deposition and annealing" , International Photonics Conference (IPC) , Tainan, Taiwan , Jan. 2011
90. T. S. Ho, C. K. Chang, N. C. Cheng, K. Y. Hsu, D. Y. Jheng, Y. T. Wang, Y. S. Lin, C. C. Lai, S. C. Wang, S. L. Huang, and J. W. Tjiu, invited, "Glass-clad crystal fibers based optical coherence tomography" , Workshop on Fibre Optics Passive Components (WFOPC) , Montreal, Canada. , Jan. 2011
91. Y. S. Lin, D. Y. Jheng, K. Y. Hsu, C. N. Tsai, and S. L. Huang, "Ce3+,Sm3+:YAG Double-clad crystal fiber broadband light source" , Conf. on Lasers and Electro-Optics (CLEO) , Baltimore, MD, U.S.A. , Jan. 2011
92. C. W. Huang, D. W. Huang, C. L. Chang, D. Y. Jheng, K. Y. Hsu, C. H. Kuan, and S. L. Huang, "Demonstration of side coupling between high power laser diode array and double-clad fiber using sub-wavelength grating" , Conf. on Lasers and Electro-Optics (CLEO) , Baltimore, MD, U.S.A. , Jan. 2011
93. C. N. Tsai, S. L. Huang, S. H. Wang, Y. S. Lin, C. H. Zhou, and W. C. Ho, "Perimeter deposition and annealing for increasing Cr4+ concentration in ultrabroadband Cr:YAG fiber amplifier" , Conf. on Lasers and Electro-Optics (CLEO) , Baltimore, MD, U.S.A. , Jan. 2011
94. C. W. Huang, C. L. Chang, D. Y. Jheng, K. Y. Hsu, S. L. Huang, and D. W. Hunag, "Symmetric side pump 10-W ytterbium-doped fiber laser by sub-wavelength grating coupler" , Conf. on Lasers and Electro-Optics/Europe (CLEO Europe) , Munich, Germany , Jan. 2011
95. Y. C. Huang, J. S. Wang, K. M. Chu, T. C. Lin, W. L. Wang, T. L. Chou, S. M. Yeh, S. L. Huang, and W. H. Cheng, "Fabrication and characteristics of Cr-doped fibers employing powder-in-tube technique" , Conference on Optical Fiber Communications (OFC) , Los Angeles, CA, U.S.A. , Jan. 2011
96. W. L. Wang, J. S. Wang, Y. C. Huang, H. H. Kuo, S. L. Huang, and W. H. Cheng, "Few-mode Cr-doped double-clad crystalline fibers" , Conference on Optical Fiber Communications (OFC) , Los Angeles, CA, U.S.A. , Jan. 2011
97. C. C. Tsai, K. Y. Hsu, Y. T. Wang, Y. S. Lin, D. Y. Jheng, C. K. Chang, P. L. Huang, E. Sun, S. L. Huang, and P. S. Yeh, invited, "Glass-clad crystal fibers based ultrahigh resolution optical coherence tomography" , IEEE Photonics Society Summer Topical Meeting on Novel Waveguiding, Structures and Phenomena , Riviera Maya, Mexico , Jan. 2010
98. S. L. Huang, invited, "From glass-clad crystal fiber to functional 3D imaging" , NSC Foresight Workshop on Creativity and Innovation , Taipei, Taiwan , Jan. 2010
99. C. C. Tsai, K. Y. Hsu, Y. S. Lin, D. Y. Jheng, T. S. Ho, S. C. Pei, C. K. Chang, Y. T. Wang, N. C. Cheng, P. L. Huang, and S. L. Huang, invited, "Glass-clad crystal fibers based functional optical coherence tomography" , Optics and Photonics Taiwan , Tainan, Taiwan , Jan. 2010
100. S. L. Huang, key note speech, "Ultrahigh-resolution optical coherence tomography with high image fidelity" , Electronic Technology Symposium , Kaohsiung , Jan. 2010
101. C. C. Tsai, Y. S. Lin, T. H. Chen, Y. T. Wang, W. Chang, P. K. Hsu, Y. H. Chang, E. Sun, and S. L. Huang, "Ultrahigh resolution optical coherence tomography via Ce3+:YAG double-clad crystal fiber source" , Conf. on Lasers and Electro-Optics (CLEO) , San Jose,CA, U.S.A. , Jan. 2010
102. K. Y. Hsu, D. Y. Jheng, Y. H. Liao, M. H. Yang, and S. L. Huang, "Diode-laser-pumped Ti:sapphire double-clad crystal fiber broadband light source" , Conf. on Lasers and Electro-Optics (CLEO) , San Jose,CA, U.S.A. , Jan. 2010
103. S. C. Pei, T. S. Ho, C. C. Tsai, Ting-Hao Chen, A. H. Kung, and S. L. Huang, "Non-invasive study of domain boundary in periodically poled ferroelectrics using ultrahigh resolution optical coherence tomography" , Conf. on Lasers and Electro-Optics (CLEO) , San Jose,CA, U.S.A. , Jan. 2010
104. C. W. Huang, D. W. Huang, C. L. Chang, D. Y. Jheng, and S. L. Huang, "Efficient coupling between laser diode array and double-clad fiber using a sub-wavelength grating," , 7th Taiwan/U.S. Air Force Nanoscience Workshop , Yi Lan, Taiwan. , Jan. 2010
105. M. K. Tsai, C. C. Tsai, T. H. Chen, Y. S. Lin, C. K. Chang, N. C. Cheng, W. Y. Li, C. K. Wei, and S. L. Huang, "Patterned structure analysis in liquid crystal display panel by ultrahigh resolution optical coherence tomography" , Optics and Photonics Taiwan , Tainan, Taiwan , Jan. 2010
106. A. Lee, T. H. Chen, C. C. Tsai, Y. S. Lin, C. K. Chang, N. C. Cheng, C. C. Huang, and S. L. Huang, "Ultrahigh resolution polarization-sensitive optical coherence tomography on liquid crystal device" , Optics and Photonics Taiwan , Tainan, Taiwan , Jan. 2010
107. D. M. Kong, S. M. Yeh, P. H. Ho, K. Y. Huang, C. Y. Wang, S. L. Huang, and W. H. Cheng, "Double Signal Pass and Bi-directionally pumped Optical Amplifier Based on Cr4+: YAG Double-clad Crystal Fiber" , Optics and Photonics Taiwan , Tainan, Taiwan , Jan. 2010
108. C. C. Tsai, Y. T. Wang, Y. S. Lin, W. Chang, S. L. Huang, P. K. Hsu, K. Y. Hsu, D. Y. Jheng, K. Y. Huang, and T. H. Chen, "Ce3+,Sm3+:YAG double-clad crystal fiber based ultra-high resolution optical coherence tomography" , Optics and Photonics Taiwan , Taipei, Taiwan , Jan. 2009
109. C. C. Lai, C. P. Ke, S. K. Liu, and S. L. Huang, "Highly efficient, low-threshold Yb3+:YAG-silica fiber laser" , Optics and Photonics Taiwan , Taipei, Taiwan , Jan. 2009
110. C. C. Lai, Y. S. Lin, K. Y. Huang, S. C. Wang, and S. L. Huang, "Study of nanospectroscopy and nanostructure on Cr:YAG double-clad crystal fiber" , Optics and Photonics Taiwan , Taipei, Taiwan , Jan. 2009
111. Y. S. Lin, C. W. Ting, Y. C. Huang, W. L. Wang, J. S. Wang, S. Y. Huang, S. L. Huang and W. H. Cheng, "Microstructures study of Cr-doped fibers growth by drawing tower" , Optics and Photonics Taiwan , Taipei, Taiwan , Jan. 2009
112. H. E. Chang, S. L. Huang, and J. Y. Yi, "Simulation on short-wavelength Yb:fiber laser" , Optics and Photonics Taiwan , Taipei, Taiwan , Jan. 2009
113. C. L. Chang, P. Y. Chen, C. W. Lan, W. H. Cheng, and S. L. Huang, "Heat transfer and fluid flow for growing yttrium aluminum garnet single-crystal fibers in two dimensional simulations" , Optics and Photonics Taiwan , Taipei, Taiwan , Jan. 2009
114. P. Y. Chen, C. L. Chang, K. Y. Huang, C. W. Lan, W. H. Cheng, and S. L. Huang, "Interface shapes of miniature molten zone formed using the laser-heated pedestal growth method" , Optics and Photonics Taiwan , Taipei, Taiwan , Jan. 2009
115. 涂智堯, 張銘仁, 高慧玲, 許光裕, 廖奕涵, 黃升龍, 陳至信, "以二氧化鈦薄膜形成雙纖衣Cr4+:YAG 晶體光纖的內纖衣" , Optics and Photonics Taiwan , Taipei, Taiwan , Jan. 2009
116. 王先佑, 葉秉慧, 許光裕, 鄭東祐, 黃升龍, "單纖衣摻鉻鎂橄欖石晶體光纖製作與特性量測," , Optics and Photonics Taiwan , Taipei, Taiwan , Jan. 2009
117. 王維倫, 黃翊中, 陳威安, 呂昱寬, 王朝盛, 黃升龍, 鄭木海, "雙層纖衣摻鉻晶體光纖於熱效應影響下之螢光特性" , Optics and Photonics Taiwan , Taipei, Taiwan , Jan. 2009
118. 林廷謙, 黃翊中, 王維倫, 呂昱寬, 王柏荃, 朱奎銘, 林信宏, 王朝盛, 郭馨徽, 黃升龍, 鄭木海, "摻鉻單模光纖之製程" , Optics and Photonics Taiwan , Taipei, Taiwan , Jan. 2009
119. C. W. Huang, C. L. Chang, D. W. Huang, and S. L. Huang, invited, "側向激發之光纖光柵在雙纖衣光纖雷射之研究" , 兩岸光學微結構材料與雷射技術研討會 , Taipei, Taiwan , Jan. 2009
120. C. W. Huang, C. L. Chang, D. Y. Jheng, D. W. Huang, and S. L. Huang, "Analysis of transmission-grating side coupler for large-mode-area double-clad fiber laser" , Sir Mark Oliphant Nanophotonics (SMONP) , Melbourne ,Australia. , Jan. 2009
121. Y. T. Wang, C. C. Tsai, K. Y. Hsu, Y. S. Lin, D. Y. Jheng, K. Y. Huang, S. L. Huang, and P. S. Yeh, invited, "Glass-clad crystal fiber based ultra-high resolution optical coherence tomography" , Conference on Lasers and Electro-Optics, Pacific Rim , Shanghai,China , Jan. 2009
122. K. Y. Hsu, C. C. Lai, Y. T. Wang, C. C. Tsai, Y. S. Lin, K. Y. Huang, P. S. Yeh, and S. L. Huang, invited, "Cr doped crystal fibers for laser, optical amplifier, and biophotonic applications" , International Conference on Materials for Advanced Technologies (ICMAT) , Singapore , Jan. 2009
123. K. Y. Hsu, D. Y. Jheng, M. H. Yang, Y. S. Lin, K. Y. Huang, C. T. Lin, S. R. Lin, and S. L. Huang, "Dual-pump double-pass double-clad Cr4+:YAG crystal fiber broadband ASE light source" , Conf. on Lasers and Electro-Optics (CLEO) , Baltimore,MD,U.S.A. , Jan. 2009
124. Y. T. Wang, P. J. Liao, K. Y. Huang, P. K. Hsu, and S. L. Huang, "Ultrahigh resolution optical coherence tomography using Cr4+:YAG fiber" , Conf. on Lasers and Electro-Optics (CLEO) , Baltimore,MD,U.S.A. , Jan. 2009
125. Y. S. Lin, T. C. Cheng, K. Y. Hsu, C. C. Tsai, D. Y. Jheng, C. N. Tsai, C. Y Lo, and S. L. Huang, "High-Brightness White Light Point Source Using Ce,Sm:YAG Crystal Fiber" , Conf. on Lasers and Electro-Optics (CLEO) , Baltimore,MD,U.S.A. , Jan. 2009
126. C. C. Lai, Y. S. Lin, K. Y. Huang, C. W. Ting, and S. L. Huang, "Effect of Nano-Crystalline Structures in the Interface on Double-clad Cr4+:YAG Crystal Fiber" , Conf. on Lasers and Electro-Optics (CLEO) , Baltimore,MD,U.S.A. , Jan. 2009
127. C. C. Lai, K. Y. Huang, H. J. Tsai, Z. W. Lin, K. D. Ji, and S. L. Huang, "Ultralow-threshold room-temperature continuous-wave double-clad Cr4+:YAG crystal fiber laser" , Conf. on Lasers and Electro-Optics (CLEO) , San Jose, CA, U.S.A , Jan. 2008
128. C. N. Tsai, Y. S. Lin, K. Y. Huang, Y. S. Lin, C. C. Lai, and S. L. Huang, "Study of the side deposition enhanced Cr4+ concentration in Cr4+:YAG crystal fiber as an ultra broadband amplified spontaneous emitter" , Conf. on Lasers and Electro-Optics (CLEO) , San Jose, CA, U.S.A , Jan. 2008
129. S. C. Pei, D. H. Sun, C. H. Hsu, T. S. Ho, F. J. Kao, S. L. Huang, and A. H. Kung, "Second-harmonic generation in periodically poled lithium tantalate crystal fiber" , Conf. on Lasers and Electro-Optics (CLEO) , San Jose, CA, U.S.A , Jan. 2008
130. C. L. Chang, D. Y. Jheng, C. W. Huang, K. Y. Hsu, J. Y. Lin, S. Tsau, C. Hu, J. Horng, and S. L. Huang, "The study of embedded reflection gratings for distributively pumped ytterbium-doped fiber lasers" , Conf. on Lasers and Electro-Optics (CLEO) , San Jose, CA, U.S.A , Jan. 2008
131. C. C. Lai, K. Y. Huang, Y. S. Lin, and S. L. Huang, "Strain analysis on the interface of double-clad Cr4+:YAG crystal fibers" , Conf. on Lasers and Electro-Optics (CLEO) , San Jose, CA, U.S.A , Jan. 2008
132. Y. S. Lin, C. N. Tsai, P. J. Liao, D. Y. Jheng, and S. L. Huang, "Crystal fiber based white light source using Ce,Sm:YAG as the active medium" , Conf. on Lasers and Electro-Optics (CLEO) , San Jose, CA, U.S.A , Jan. 2008
133. Y. T. Wang, K. Y. Huang, and S. L. Huang, "Ultrahigh-resolution optical low coherence reflectometry with a wideband Cr4+:YAG amplified spontaneous emission light source" , Workshop on Fibres and Optical Passive Components (WFOPC) , Taipei, Taiwan , Jan. 2007
134. K. Y. Hsu, K. Y. Huang, C. C. Lai, Y. T. Wang, Z. W. Lin, C. N. Tsai, and S. L. Huang, invited, "Broadband ASE and laser based on chromium-doped double-clad crystal fibers" , Optics and Photonics Taiwan , Tai-Chung, Taiwan , Jan. 2007
135. Z. W. Lin, C. C. Lai, K. Y. Huang, H. J. Tsai, K. D. Ji, and S. L. Huang, "Low-threshold room-temperature continuous-wave double-clad Cr4+:YAG crystal fiber laser" , Optics and Photonics Taiwan , Tai-Chung, Taiwan , Jan. 2007
136. C. C. Lai, K. Y. Huang, Y. S. Lin, and S. L. Huang, "Study on the core/cladding interface in double-clad Cr4+:YAG crystal fibers" , Optics and Photonics Taiwan , Tai-Chung, Taiwan , Jan. 2007
137. C. L. Chang, D. Y. Jheng, K. Y. Hsu, J. Y. Lin, C. W. Huang, S. Tsau, C. Hu, J. Horng, and S. L. Huang, "Evaluation of grating fiber coupler for cladding-pumped ytterbium- doped fiber laser" , Optics and Photonics Taiwan , Tai-Chung, Taiwan , Jan. 2007
138. C. N. Tsai, Y. S. Lin, K. Y. Huang, Y. S. Lin, C. C. Lai, and S. L. Huang, "The side deposition enhanced Cr4+ concentration in YAG crystal fibers" , Optics and Photonics Taiwan , Tai-Chung, Taiwan , Jan. 2007
139. L. M. Lee, S. C. Pei, T. M. Tai, D. H. Sun, A. H. Kung, and S. L. Huang, invited, "Growth of ferroelectric crystal fibers for wavelength conversion" , Conference on Lasers and Electro-Optics, Pacific Rim , Seoul, Korea , Jan. 2007
140. S. L. Huang, K. Y. Huang, K. Y. Hsu, C. N. Tsai, and P. S. Yeh, invited, "Broadband emission and amplification from Chromium doped fibers" , Asia-Pacific Optical Communications (APOC) , Wuhan, China , Jan. 2007
141. D. H. Sun, S. C. Pei, T. M. Tai, A. H. Kung, and S. L. Huang, invited, "Growth and Applications of Lithium Tantalate Crystal Fibers" , 兩岸光學微結構材料與雷射技術研討會 , Nanjing, China , Jan. 2007
142. S. L. Huang, K. Y. Huang, K. Y. Hsu, and C. N. Tsai, invited, "Broadband light source from Chromium doped fibers" , International Symposium on Next-Generation Lightwave Communications , Hong Kong , Jan. 2007
143. J. Y. Yi, K. Y. Huang, C. C. Lai, H. Peng, L. H. Chen, J. C. Chen, and S. L. Huang, "Compact multi-pass ring laser using LHPG-grown Yb:YAG crystal fiber" , Conf. on Lasers and Electro-Optics (CLEO) , Baltimore, MD, U.S.A , Jan. 2007
144. S. C. Pei, L. M. Lee, D. F. Lin, M. C. Tsai, D. H. Sun, and S. L. Huang, "Tunable blue/green light source by self-cascaded x(2) nonlinearity in ZnO:PPLN crystal fiber" , Conf. on Lasers and Electro-Optics (CLEO) , Baltimore, MD, U.S.A , Jan. 2007
145. K. Y. Huang, K. Y. Hsu, R. C. Shr, Y. D. Huang, S. L. Huang, and Y. S. Lin, "Uniform growth of 10-micron-core double-clad Cr4+:YAG crystal fiber" , Conf. on Lasers and Electro-Optics (CLEO) , Baltimore, MD, U.S.A , Jan. 2007
146. T. M. Tai, S. C. Pei, L. M. Lee, S. L. Huang, and A. H. Kung, "Fabrication of PPLT crystal fiber by the method of laser heated pedestal growth" , Conf. on Lasers and Electro-Optics (CLEO) , Baltimore, MD, U.S.A , Jan. 2007
147. C. C. Lai, Y. S. Lin, C. N. Tsai, J. C. Chen, S. L. Huang, and P. Shen, "Microstructure analysis on the YAG core of Cr4+ doped fiber amplifier" , OptoElectronics and Communications Conference (OECC) , Kaohsiung, Taiwan , Jul. 2006
148. J. C. Chen, Y. S. Lin, C. N. Tsai, K. Y. Huang, W. Z. Su, R. C. Shr, F. J. Kao, Y. S. Lin, and S. L. Huang, "400-nm-bandwidth emission from Cr-doped alumino-silicate fiber" , OptoElectronics and Communications Conference (OECC) , Kaohsiung, Taiwan , Jul. 2006
149. Y. C. Huang, Y. K. Lu, J. C. Chen, Y. C. Hsu, Y. M. Huang, H. M. Yang, M. T. Sheen, S. L. Huang, T. Y. Chang, and W. H. Cheng, "Fabrication and performance of Cr-doped fibers by drawing tower" , OptoElectronics and Communications Conference (OECC) , Kaohsiung, Taiwan , Jul. 2006
150. J. C. Chen, K. Y. Huang, C. N. Tsai, Y. S. Lin, and S. L. Huang, "Broadband emission from glass-clad chromium doped Fiber" , IEEE/LEOS summer topical meeting on Fibers for Lasers, Amplifiers and Nonlinear Applications , Quebec City, Canada , Jul. 2006
151. Y. J. Huo, S. F. He, W. Q. Liu, and S. L. Huang, "Multi-end-pumped nonplanar ring laser with two-mirror resonator" , Conf. on Lasers and Electro-Optics (CLEO) , Long Beach, CA, U.S.A. , May 2006
152. J. C. Chen, K. Y. Huang, C. N. Tsai, C. C. Lai, Y. S. Lin, P. Y. Chen, and S. L. Huang, invited, "Spectroscopic characterization on the double-clad Cr4+:YAG crystal fiber amplifier" , Symposium on Optical Communications Technologies , Kaohsiung, Taiwan , Mar. 2006
153. Y. C. Huang, Y. K. Lu, J. C. Chen, Y. C. Hsu, Y. M. Huang, H. M. Yang, M. T. Sheen, S. L. Huang, T. Y. Chang, and W. H. Cheng, "Fabrication of Cr-doped fibers by drawing tower" , Conference on Optical Fiber Communications (OFC) , Anaheim, CA, U.S.A. , Jan. 2006
154. K. Y. Huang, C. N. Tsai, K. Y. Hsu, J. C. Chen, S. H Chen, and P. Y. Chen, Y. S. Lin, C. C. Lai, Y. D. Huang, J. Y. Yi, Y. S. Lin, C. Y. Lo, P. Shen, T. Y. Chang, and S. L. Huang, invited, "Broadband optical amplifier and light source using Chromium doped fibers" , Optics and Photonics Taiwan , Hsinchu, Taiwan , Jan. 2006
155. C. N. Tsai, K. Y. Huang, J. C. Chen, Y. S. Lin, S. L. Huang, and Y. S. Lin, "Study of Cr oxidation states in divalent ions co-doped Cr:YAG single crystal fiber with various annealing treatments" , Optics and Photonics Taiwan , Hsinchu, Taiwan , Jan. 2006
156. Y. S. Lin, K. Y. Huang, C. C. Lai, and S. L. Huang, "Study of sapphire tube assisted LHPG growth on double-clad Cr4+:YAG crystal fiber" , Optics and Photonics Taiwan , Hsinchu, Taiwan , Jan. 2006
157. S. Y. Wang, S. L. Huang, and F. J. Kao, "Second harmonic microscope of PPLT and PPLN crystal fibers" , Optics and Photonics Taiwan , Hsinchu, Taiwan , Jan. 2006
158. J. C. Chen, C. N. Tsai, K. Y. Huang, Y. S. Lin, F. J. Kao, and S. L. Huang, "Effects of side deposition and annealing for increasing Cr4+ concentration in Cr:YAG crystal fiber" , Conference on Lasers and Electro-Optics, Pacific Rim , Tokyo, Japan , Jan. 2005
159. C. W. Lan, P. Y. Chen, K. Y. Huang, and S. L. Huang, "Two-dimension simulation and experimentation on laser-heated pedestal growth of YAG single-crystal fibers" , 輸送現象研討會 , Taipei, Taiwan , Jan. 2005
160. K. Y. Huang, C. C. Lai, J. C. Chen, C. N. Tsai, S. L. Huang, and Y.S. Lin, invited, "Nanocrystal formation in glass-clad Cr:YAG crystal fibers" , Workshop on Photonic Crystals and Nano Photonics , Taipei, Taiwan , 2005
161. L. M. Lee, P. C. Chiu, M. C. Tsai, D. F. Lin, S. L. Huang, S. Y. Tu, S. C. Pei, A. H. Kung, C. C. Kuo, S. B. Huang, and D. Chu, invited, "Cascaded second order nonlinearity for the generation of blue/green laser using ZnO:PPLN crystal fiber" , 兩岸光學微結構材料與元件技術研討會 , Taipei, Taiwan , Jan. 2005
162. Y. S. Lin, C. C. Lai, K. Y. Huang, J. C. Chen, C. Y. Lo, S. L. Huang, T. Y. Chang, and P. Shen, "The observation of crystalline nanostructure in double-clad Cr4+:YAG crystal fiber" , OptoElectronics and Communication Conference , Seoul, Korea , Jan. 2005
163. J. Y. Yi, H. T. Tuan, K. W. Cheng, C. K. Lee, and S. L. Huang, "Efficient and compact Yb:YAG ring laser" , Conf. on Lasers and Electro-Optics (CLEO) , Baltimore, MD, U.S.A. , Jan. 2005
164. K. Y. Huang, C. Y. Lo, J. C. Chen, C. N. Tsai, C. C. Lai, S. L. Huang, and Y. S. Lin, "Characterization on broadband chromium-doped fiber amplifier" , Conf. on Lasers and Electro-Optics (CLEO) , Baltimore, MD, U.S.A. , Jan. 2005
165. L. M. Lee, P. C. Chiu, S. L. Huang, S. Y. Tu, S. C. Pei, and A. H. Kung, "Cascaded second order nonlinearity for the generation of blue/green laser using ZnO:PPLN crystal fibe" , Conf. on Lasers and Electro-Optics (CLEO) , Baltimore, MD, U.S.A. , Jan. 2005
166. S. L. Huang, T. Y. Chang, P. Shen, F. J. Kao, W. H. Cheng, C. Y. Lo, Y. S. Lin, K. Y. Huang, J. C. Chen, C. C. Lai, P. Y. Chen, C. N. Tsai, and Y. S. Lin, invited, "Chromium-doped wideband fiber amplifier" , Optics and Photonics Taiwan , Tainan, Taiwan , Jan. 2005
167. C. Y. Lo, K. Y. Huang, J. C. Chen, C. N. Tsai, C. C. Lai, S. L. Huang, and Y. S. Lin, "Wideband chromium-doped fiber amplifier" , Symposium on Technologies for High-Capacity Optical Communications , Kaohsiung, Taiwan , Jan. 2004
168. S. Y. Tu, A. H. Kung, L. M. Lee, P. C. Chiu, S. L. Huang, and S. C. Pei, "Second harmonic generation of ZnO:PPLN crystal fiber by PPLN OPO" , Optics and Photonics Taiwan , Chung-Li, Taiwan , Jan. 2004
169. C. N. Tsai, Y. S. Lin, K. Y. Huang, J. C. Chen, C. Y. Lo, and S. L. Huang, "Enhanced Cr4+ concentration in Cr:YAG crystal fiber by side deposition" , Optics and Photonics Taiwan , Chung-Li, Taiwan , Jan. 2004
170. S. C. Wu, S. L. Huang, and F. J. Kao, "Characterization of PPLN crystal fiber with second harmonic microscopy" , Optics and Photonics Taiwan , Chung-Li, Taiwan , Jan. 2004
171. S. L. Huang, C. Y. Lo, K. Y. Huang, J. C. Chen, C. Y. Chuang, C. C. Lai, Y. S. Lin, and P. S. Yeh, "Broadband Cr4+:YAG crystal fiber amplifier" , Nonlinear Optics: Material, Fundamental, and Applications , Hawaii, U.S.A , Jan. 2004
172. S. L. Huang, C. Y. Lo, K. Y. Huang, J. C. Chen, P. L. Huang, and L. M. Lee, invited, "Glass-clad Cr4+:YAG crystal fiber for the generation of super-wideband amplified spontaneous emission" , International Symposium on Advances and Trends in Fiber Optics and Applications , Chongqing, China , Jan. 2004
173. S. L. Huang, L. M. Lee, J. C. Chen, and T. S. Chou, C. C. Kuo, and S. B. Huang, invited, "Nonlinear photonic crystal fiber for wavelength conversion" , Symposium on Nonlinear Frequency Mixing and Laser Technologies , Hsinchu, Taiwan , Jan. 2004
174. C. Y. Lo, K. Y. Huang, J. C. Chen, C. Y. Chuang, S. L. Huang, and P. S. Yeh, "Super-wideband amplified spontaneous emission generated by double-clad Cr4+:YAG crystal fiber" , Conf. on Lasers and Electro-Optics (CLEO) , San Francisco, CA, U.S.A , Jan. 2004
175. J. C. Chen, C. Y. Lo, K. Y. Huang, C. C. Lai, P. L. Huang, Y. H. Lin, F. J. Kao, S. L. Huang, and Y. S. Lin, "Mapping of Cr ions and refraction index profile in Cr:YAG crystal fiber with double-cladding structure" , Conf. on Lasers and Electro-Optics (CLEO) , San Francisco, CA, U.S.A. , Jan. 2004
176. L. M. Lee, S. L. Huang, Y. C. Cho, C. C. Kuo, and S. B. Huang, "Fabrication and characterization of ZnO:PPLN crystal fiber by electric-field induced micro-swing technique" , Conf. on Lasers and Electro-Optics (CLEO) , San Francisco, CA, U.S.A. , Jan. 2004
177. J. C. Chen, C. Y. Lo, K. Y. Huang, P. L. Huang, Y. H. Lin, F. J. Kao, and S. L. Huang, "Mapping of Cr ions profile in Cr:YAG crystal fiber with double-cladding structure" , Optics and Photonics Taiwan , Taipei, Taiwan , Jan. 2003
178. Y. C. Cho, L. M. Lee, J. C. Chen, S. L. Huang, and F. J. Kao, "Fabrication of nonlinear photonic crystal fiber" , Conference on Lasers and Electro-Optics, Pacific Rim , Taipei, Taiwan , Jan. 2003
179. C. Y. Lo, S. Y. Tu, K. Y. Huang, and S. L. Huang, "Fused-silica-clad Cr:YAG fiber" , Conference on Lasers and Electro-Optics, Pacific Rim , Taipei, Taiwan , Jan. 2003
180. J. C. Chen, C. Y. Lo, S. L. Huang, and F. J. Kao, "The use of fluorescence confocal microscopy in mapping Cr3+ profile within the YAG crystal fiber" , Conference on Lasers and Electro-Optics, Pacific Rim , Taipei, Taiwan , Jan. 2003
181. S. L. Huang, C. Y. Lo, L. M. Lee, K. Y. Huang, and J. C. Chen, invited, "Crystal fiber devices for super wideband optical communication" , Taiwan-Japan Optoelectronics Workshop , Tainan, Taiwan , Jan. 2003
182. P. L. Huang and S. L. Huang, "The analysis of polarization in a non-planar ring laser" , Conference on Lasers and Electro-Optics , Baltimore, MD, U.S.A. , Jan. 2003
183. C. Y. Lo, K. Y. Huang, S. Y. Tu, and S. L. Huang, "280-nm amplified spontaneous emission generated by Cr:YAG crystal fiber" , Conference on Lasers and Electro-Optics , Baltimore, MD, U.S.A. , Jan. 2003
184. P. L. Huang, Y. J. Lu, J. Y. Yi, C. Y. Lo, S. L. Huang, and Y. Huo, "High doping gradient Nd:YAG crystal fiber" , Conference on Lasers and Electro-Optics , Baltimore, MD, U.S.A. , Jan. 2003
185. C. T. Hsiao, C. C Kuo, S. C Pei, and S. L. Huang, "Diode-array-pumped composite-chip blue solid-state laser" , Conference on Lasers and Electro-Optics , Baltimore, MD, U.S.A. , Jan. 2003
186. K. Y. Huang, C. Y. Lo, S. Y. Tu, S. L. Huang, and P. S. Yeh, "Diode array directly pumped Cr:YAG crystal fiber broadband light source" , Advanced Solid-State Photonics , Texas, U.S.A. , Jan. 2003
187. J. C. Chen, C. Y. Lo, S. L. Huang, and F. J. Kao, "Mapping of Cr ion profile in Cr:YAG crystal fiber by confocal microscopy" , Conference on Lasers and Electro-Optics , Baltimore, MD, U.S.A. , Jan. 2003
188. C. Y. Lo, T. S. Chou, P. L. Huang, L. M. Lee, and S. L. Huang, "High-efficient Nd:YAG crystal fiber laser" , Conference on Lasers and Electro-Optics , Long Beach, CA, U.S.A. , Jan. 2002
189. J. Y. Yi, P. L. Huang, H. T. Tuan, and S. L. Huang, "Planar and non-planar multi-reentrant 2-mirror ring cavities" , Conference on Lasers and Electro-Optics , Long Beach, CA, U.S.A. , Jan. 2002
190. C. Y. Lo, T. S. Chou, L. M. Lee, P. L. Huang, S. L. Huang, Y. J. Huo, "Gradient-index Nd:YAG crystal fiber laser" , Advanced Solid-State Lasers , Quebec City, Canada , Jan. 2002
191. J. C. Chen, C. Y. Lo, S. L. Huang, and F. J. Kao, "Mapping of Cr ion profile in Cr:YAG crystal fiber by confocal microscopy" , Optics and Photonics Taiwan , Taipei, Taiwan , Jan. 2002
192. L. M. Lee, Y. C. Cho, C. J. Lin, C. Y. Lo, and S. L. Huang, "The study and fabrication of periodically-poled lithium niobate crystal fiber" , Optics and Photonics Taiwan , Taipei, Taiwan , Jan. 2002
193. K. Y. Huang, C. Y. Lo, S. Y. Tu, and S. L. Huang, "Super-wideband ASE light source generated by Cr:YAG crystal fiber" , Optics and Photonics Taiwan , Taipei, Taiwan , Jan. 2002
194. P. L. Huang, C. J. Weng, H. T. Tuan, S. C. Pei, and S. L. Huang, "Polarization analysis of a non-planar ring laser" , Optics and Photonics Taiwan , Taipei, Taiwan , Jan. 2002
195. C. Y. Lo, L. M. Lee, S.Y. Tu, K. Y. Huang, Y. C. Cho, and S. L. Huang, invited, "Crystal fiber devices for optical fiber communications" , Japan-Taiwan Joint Symposium on Nanophotonics Technology , Osaka, Japan , Jan. 2002
196. C. Y. Lo, L. M. Lee, T. S. Chou, C. J. Lin, and S. L. Huang, invited, "Crystal fiber devices for laser and nonlinear frequency conversion" , ROC-Lithuania Bilateral Conference on Optoelectronics and Magnetic Materials , Taipei, Taiwan , Jan. 2002
197. J. Y. Yi, P. L. Huang, H. T. Tuan, Y. H. Chen, and S. L. Huang, "Multi-reentrant ring laser cavity" , Optics and Photonics Taiwan , Kaohsiung, Taiwan , Jan. 2001
198. J. C. Chen, F. J. Kao, S. C. Shih, S. L. Huang, T. S. Horng, and T. L. Wu, "Optical beam induced current microscopy at radio frequency" , Optics and Photonics Taiwan , Kaohsiung, Taiwan , Jan. 2001
199. P. L. Huang, Y. L.Weng, C. W. Wang, H. Z. Cheng, and S. L. Huang, "Passively Q-switched three-level laser and its intracavity frequency-doubling" , Conference on Lasers and Electro-Optics/ Pacific Rim , Chiba, Japan , Jan. 2001
200. C. J. Weng, P. L. Huang, H. Z. Cheng, and S. L. Huang, "Reduction of thermally-induced polarization rotation in a nonplanar ring laser cavity" , Conference on Lasers and Electro-Optics/ Pacific Rim , Chiba, Japan , Jan. 2001
201. W. K. Kuo, C. H. Pai, and S. L. Huang, "An electro-optic probing system for near electric field measurement using heterodyne method" , Conference on Lasers and Electro-Optics/ Pacific Rim , Chiba, Japan , Jan. 2001
202. C. Y. Lo, T. S. Chou, P. L. Huang, L. M. Lee, S. L. Huang, L. C. Lin, C. S. Chang, H. Y. Lin, and F. C. Ho, "Diode laser pumped crystal fiber lasers with gradient-index profile" , Optics and Photonics Taiwan , Kaohsiung, Taiwan , Jan. 2001
203. C. R. Weng, P. L. Huang, H. Z. Cheng, and S. L. Huang, "Characterization and analysis of the polarization in a nonplanar ring laser cavity" , International Photonics Conference , Hsinchu, Taiwan , Jan. 2000
204. C. Y. Lo, L. M. Lee, C. Y. Tai, and S. L. Huang, "Growth and characterization of gradient index laser crystal fibers" , International Photonics Conference , Hsinchu, Taiwan , Jan. 2000
205. W. K. Kuo, W. H. Chen, C. H. Pai, S. L. Huang, and Y. T. Huang, "Three-dimensional electric-field vector measurement using electro-optic sensing technique" , International Photonics Conference , Hsinchu, Taiwan , Jan. 2000
206. F. J. Kao, M. K. Huang, Y. S. Wang, S. L. Huang, M. K. Lee, C. K. Sun, and P. C. Cheng, "Two-photon optical-beam-induced current microscopy of indium gallium nitride light emitting diodes" , SPIE Optics and Photonics Taiwan , Taipei, Taiwan , Jan. 2000
207. F. J. Kao, Y. S. Wang, M. K. Huang, S. L. Huang, and P. C. Cheng, "Second-harmonic generation microscopy of tooth" , SPIE Optics and Photonics Taiwan , Taipei, Taiwan , Jan. 2000
208. P. L. Huang, H. Z. Cheng, and S. L. Huang, "Timing-jitter reduction of passively Q-switched laser by a reentrant 2-mirror ring cavity" , Conf. on Lasers and Electro-Optics (CLEO) , San Francisco, CA, U.S.A. , Jan. 2000
209. W. H. Chen, W. K. Kuo, S. L. Huang, Y. T. Huang, and H. Z. Cheng, "On-wafer 2D electric-field-vector mapping using one-beam electro-optic probing technique" , Conf. on Lasers and Electro-Optics (CLEO) , San Francisco, CA, U.S.A. , Jan. 2000
210. S. L. Huang, H. Z. Cheng, and P. L. Huang, "Reentrant two-mirror laser ring cavity for the generation of single frequency green laser" , Advanced Solid-State Lasers, ME3 , Davos, Switzerland , 2000
211. W. K. Kuo, S. L. Huang, W. H. Chen, and Y. T. Huang, invited, "Three-dimensional electric-field vector measurement using electro-optic sensing technique" , Asia-Pacific Symposium on Confocal Microscopy and Related Technologies , Kaohsiung, Taiwan , Jan. 2000
212. S. L. Huang, H. Z. Cheng, and P. L. Huang, "Reentrant two-mirror laser ring cavity for the generation of single frequency green laser" , Advanced Solid-State Lasers, ME3 , Davos, Switzerland , Jan. 2000
213. S. L. Huang, H. Z. Cheng, and P. L. Huang, invited, "Compact solid-state visible lasers" , Optics and Photonics Taiwan , Taiwan , Jan. 1999
214. P. L. Huang, H. Z. Cheng, and S. L. Huang, "Two mirror figure '8' ring resonator" , Optics and Photonics Taiwan , Taiwan , Jan. 1999
215. Y. L. Weng, H. Z. Cheng, S. L. Huang, and F. J. Kao, "Passively Q-switched and intracavity frequency-doubled blue laser" , Optics and Photonics Taiwan , Taiwan , Jan. 1999
216. W. H. Chen, W. K. Kuo, S. L. Huang, and Y. T. Huang, "On-wafer electro-optic probing using rotational deformation-modulation, 1999" , Optics and Photonics Taiwan , Taiwan , Jan. 1999
217. S. L. Huang, H. Z. Cheng, and P. L. Huang, invited, "Compact solid-state green laser and its application in microwave generation" , International Microwave and Optoelectronics Conference , Rio de Janeiro, Brazil , Jan. 1999
218. J. W. Lin, S. L. Huang, F. J. Kao, and T. S. Horng, "The study of stability in active laser mode locking with self-phase modulation and fast switching" , International Photonics Conference , Taiwan , Jan. 1998
219. T. Y. Tsui, S. L. Huang, and F. J. Kao, "High pulse energy and single frequency passively Q-switched Nd:YAG/Cr4+:YAG laser" , International Photonics Conference , Taiwan , Jan. 1998
220. W. L. Wu and S. L. Huang, "Probing of 3-D temperature distribution in end-pumped solid-state laser crystal" , International Photonics Conference , Taiwan , Jan. 1998
221. W. K. Kuo, Y. T. Huang, and S. L. Huang, "Three-dimensional electric-field vector measurement using an electro-optic prober" , International Photonics Conference , Taiwan , Jan. 1998
222. F. J. Kao, H. P. Wang, and S. L. Huang, "Photoluminescence mapping of high indium concentration InGaN/GaN thin films" , International Photonics Conference , Taiwan , Jan. 1998
223. F. J. Kao, H. P. Wang, S. L. Huang, S. A. Chen, K. R. Chuang, W. S. Fann, and H. F. Meng, "Mapping photoluminescence quenching on poly(p-phenylene-vinylene) based thin film light emitting devices through photo-current and photoluminescence imaging" , International Photonics Conference , Taiwan , Jan. 1998
224. W. L. Wu, S. L. Huang, and F. J. Kao, "Probing of Thermal effects in diode-laser-pumped solid-state laser by precision optical reflectometer" , Dig. Conf. Lasers and Electro-Optics (CLEO) , San Francisco, CA, U.S.A. , Jan. 1998
225. W. K. Kuo, S. L. Huang, and L. C. Chang, "High-sensitivity and real-time electro-optic E-vector probing technique" , in Optics and Photonics/Taiwan , Hsinchu, Taiwan , Jan. 1997
226. T. Y. Tsui, S. L. Huang, F. J. Kao, and J. T. Tung, "Study of the timing-jitter reduction of a passively Q-switched Nd:YAG/Cr4+:YAG laser" , in Optics and Photonics /Taiwan , Taiwan , Jan. 1997
227. W. L. Wu, S. L. Huang, and F. J. Kao, "Thermal lensing enhanced second harmonic generation in a diode-laser-pumped Nd:YVO4 laser" , in Optics and Photonics /Taiwan , Hsinchu, Taiwan , Jan. 1997
228. J. W. Lin, S. L. Huang, F. J. Kao, and T. S. Horng, "Self-phase modulation and fast switching enhanced pulse generation in an actively mode-locked Nd:YLF laser" , in Optics and Photonics/Taiwan , Hsinchu, Taiwan , Jan. 1997
229. S. F. Chiu, S. N. Wu, M. L. Chuang, S. L. Huang, A. K. Chu, and W. H. Cheng, "Thermal stresses in temperature dependence of refractive index of Ta2O5 dielectric films" , in Optics and Photonics/Taiwan , Hsinchu, Taiwan , Jan. 1997
230. H. S. Hsieh, C. S. Hsu, S. L. Huang, and F. J. Kao, "Enhancement of conversion efficiency of intracavaty-frequency-doubled Nd:YVO4 laser by cross-polarized longitudinal modes" , Solid State Lasers Materials and Applications , Tianjin, PRC , Jan. 1997
231. W. K. Kuo, S. L. Huang, and L. C. Chang, "On-wafer dual beam electro-optic probing of electric-field vector" , Dig. Conf. Lasers and Electro-Optics (CLEO) , Balimore, MD, U.S.A. , Jan. 1997
232. F. J. Kao, L. J. Chang, S. L. Huang, S. A. Chen, K. R. Chuang, and W. S. Fann, "Photo-current imaging of poly(p-phenylenevinylene) thin film light emitting devices with a laser scanning microscope" , Proceedings of SPIE, 3145 , Jan. 1997
233. 林靖淵、黃升龍, "Fast and robust scheme for the phase retrieval of ultrafast laser pulses" , Photonics Taiwan , Hsinchu, Taiwan , Jan. 1996
234. 郭文凱、黃升龍, "Wafer level electric field vector sensing by electro-optic prober" , Photonics Taiwan , Hsinchu, Taiwan , Jan. 1996
235. 劉立仁、許主賜、黃升龍、高甫仁, "A novel stabilization feedback control of mode-locked laser for real-time measurement" , 超快光學與光電子學研討會 , Hsinchu, Taiwan , Jan. 1996
236. 黃升龍、高甫仁、林敬舜、陳文吉, "Timing jitter reduction of a diode-laser-pumped TEC-AOM mode-locked Nd:YLF laser" , 半導體、光纖與積體光電研討會 , Taipei, Taiwan , Jan. 1995
237. S. L. Huang, F. J. Kao, W. J. Chen, J. S. Lin, K. C. Lee, P. J. Tsai, and J. Y. Lin, "Stability of cw and mode-locked operations of an intracavity frequency-doubled and diode-laser-pumped Nd:YLF laser" , Conference on Lasers and Electro-Optics/ Pacific Rim , Chiba, Japan , Jan. 1995
238. 高甫仁、陳文吉、林敬舜、黃升龍, "Diode-pumped picosecond Nd:YLF laser at 1053 nm and 526.5 nm" , 物理年會 , Taiwan , Jan. 1994
239. 黃升龍、高甫仁、陳文吉、林敬舜、林靖淵、蔡佩溶、李克琴, "Intra-cavity frequency doubling of a cw mode-locked diode-laser-pumped Nd:YLF laser" , 超快光學及應用研討會 , Taipei, Taiwan , Jan. 1994
240. S. L. Huang and K. C. Lee, "Optical characterization of coplanar waveguide based high-speed device interconnect" , International Conference on Electronic Materials , Hsinchu, Taiwan , Jan. 1994
241. S. L. Huang, "The applications of ultrafast optics on microwave/millimeter-wave semiconductor devices" , First Chinese (Beijing-Hong Kong-Taipei) Optoelectronics Workshop , Hong Kong , Jan. 1994
242. W. -L. Cao, Y. -Q. Liu, Y. -S. Lai, S. L. Huang, V. Bhanthumnavin, C. H. Lee, Z. -Y. Shen, P. Pang, D. J. Kountz, and W. L. Holstein, "Microwave generation using laser activated high Tc superconductors" , IEEE/LEOS summer topical meeting on Optical Microwave Interactions , CA, U.S.A. , Jan. 1993
243. H-L. A. Hung, C. H. Lee, and S. L. Huang, invited, "Picosecond optical techniques for MMIC characterization and control" , IEEE/LEOS summer topical meeting on Optical Microwave Interactions , Santa Barbara, CA, U.S.A. , Jan. 1993
244. S. L. Huang, C. H. Lee, and H-L. A. Hung, "Optimization of optical-microwave phase-locked loop for fast real-time waveform sampling" , IEEE/LEOS summer topical meeting on Optical Microwave Interactions , Santa Barbara, CA, U.S.A , Jan. 1993
245. S. E. Saddow, B. J. Thedrez, S. L. Huang, T. J. Mermagen, and C. H. Lee, "An investigation of the temperature and electric field dependence of a GaAs microwave photoconductive switch, 1993" , OE LASE/SPIE , Los Angeles, CA, U.S.A. , Jan. 1993
246. S. L. Huang, H-L. A. Hung, and C. H. Lee, "On-wafer optoelectronic techniques for millimeter-wave generation, control, and circuit characterization" , OSA Proceeding on Ultrafast Electronics & Optoelectronics , U.S.A. , Jan. 1993
247. L. P. Golob, S. L. Huang, C. H. Lee, W. H. Chang, K. Jones, M. Taysing-Lara, and T. DeAnni, "Picosecond photoconductive switches designed for on-wafer characterization of high frequency interconnects" , IEEE MTT-S International Microwave Symposium , Atlanta, Georgia, U.S.A. , Jan. 1993
248. S. L. Huang, C. H. Lee, and H-L. A. Hung, "Broadband and real time waveform sampling using optic-microwave phase-locking" , IEEE MTT-S International Microwave Symposium , Atlanta, Georgia, U.S.A. , Jan. 1993
249. S. L. Huang and C. H. Lee, "Transient response of high electric field picosecond photoconductive switch" , IEEE MTT-S International Microwave Symposium , U.S.A. , Jan. 1992
250. S. L. Huang, E. A. Chauchard, C. H. Lee, T. T. Lee, H-L. A. Hung, and T. Joseph, "On-wafer testing of MMIC with monolithically integrated photoconductive switches" , IEEE MTT-S International Microwave Symposium , U.S.A. , Jan. 1992
251. S. L. Huang, L. P. Golob, C. H. Lee, and H-L. A. Hung, "A novel approach to miniature photoconductive sampling of microwave circuits" , Dig. Conf. Lasers and Electro-Optics (CLEO) , Anaheim, CA, U.S.A. , Jan. 1992
252. H-L. A. Hung, M. G. Li, S. L. Huang, and C. H. Lee, "Characterization of microwave integrated circuits using optical phase-locking and sampling system" , IEEE MTT-S International Microwave Symposium , U.S.A. , Jan. 1991
253. S. L. Huang, L. P. Golob, E. A. Chauchard, C. H. Lee, T. Smith, T. T. Lee, and T. R. Joseph, "Time window limited dynamic range of photoconductive sampling" , IEEE/LEOS summer topical meeting on Optical Millimeter-Wave Interaction: Measurements, Generation, Transmission, and Contro , Newport Beach, CA, U.S.A. , Jan. 1991
254. M. G. Li, S. L. Huang, C. H. Lee, and H-L. A. Hung, "Optical phase locking of microwave signals and its application to waveform sampling" , Dig. Conf. Lasers and Electro-Optics (CLEO) , Baltimore, MD, U.S.A. , Jan. 1991
255. S. L. Huang, E. A. Chauchard, C. H. Lee, T. Smith, T. T. Lee, and T. R. Joseph, "Comparison of oxygen ion and proton implanted GaAs photoconductive switches" , OSA Proceeding on Picosecond Electronics & Optoelectronics , U.S.A. , Jan. 1991
256. M. G. Li, S. L. Huang, C. H. Lee, and H-L. A. Hung, "Optical phase locking of microwave signals and its application to waveform sampling" , OSA Proceeding on Picosecond Electronics & Optoelectronics , U.S.A. , Jan. 1991
---
Books:
1. P. Y. Chen, C. L. Chang, and S. L. Huang, "Crystal-fiber growth using laser-heated pedestal growth method" , Lambert Academic Publishing , 978-3-8383-3279-6 , 116 , Jan. 2011
2. 李齊湘、嚴立、黃升龍, "超快光電技術及應用" , 光電科技資料叢書之二十八 , Jan. 1999
---
Patents:
1. K. Y. Hsu, D. Y. Jheng, Y. H. Liao, and S. L. Huang, "Ti:sapphire crystal fiber, manufacturing method thereof, and wide band light source using the same" , US patent 8,625,948, Jan. 2014
2. Y. T. Wang, P. K. Hsu, and S. L. Huang, "Apparatus for low coherence optical imaging" , US patent 8,582,110, Jan. 2013
3. C. C. Tsai, K. Y. Hsu, Y. S. Lin, and S. L. Huang, "Three-dimensional optical coherence tomography confocal imaging apparatus" , US patent 8,553,209, Jan. 2013
4. Y. T. Wang, P. K. Hsu, K. Y. Hsu, D. Y. Jheng, C. C. Tsai, and S. L. Huang, "Optical imaging apparatus and method" , US patent 8,493,568, Jan. 2013
5. Y. S. Lin, C. C. Tsai, T. C. Cheng, K. Y. Hsu, D. Y. Jheng, and S. L. Huang, "White light source with crystal fiber and method for color temperature tuning thereof" , US patent 8,416,489, Jan. 2013
6. Y. T. Wang, P. K. Hsu, and S. L. Huang, "Apparatus for low coherence optical imaging" , US patent 8,610,900, Jan. 2013
7. S. L. Huang, C. Y. Lo, K. Y. Huang, S. Y. Tu, Lee, H. W. Lee, S. P. Huang, and S. B. Yin, "Fiber used in wideband amplified spontaneous emission light source and the method of making the same" , US patent 8,146,389, Jan. 2012
8. K. Y. Huang, C. Y. Lo, and S. L. Huang, "Indirect heat type double-clad crystal fiber fabrication method" , US patent 8,001,806, Jan. 2011
9. S. L. Huang, C. Y. Lo, S. B. Huang, and S. B. Yin, "Micro crystal fiber lasers and method of making frequency-doubling crystal fibers" , US patent 7,630,415, Jan. 2009
10. S. L. Huang, C. Y. Lo, K. Y. Huang, S. Y. Tu, H. W. Lee, S. P. Huang, and S. B. Yin, "Fiber used in wideband amplified spontaneous emission light source and the method of making the same" , US patent 7,519,262, Jan. 2009
11. K. Y. Huang, C. Y. Lo, S. L. Huang, "Indirect heat type double-clad crystal fiber fabrication method" , U.S.A 20080047303, Feb. 2008
12. S. L. Huang, C. Y. Lo, K. Y. Huang, J. C. Chen, C. Y. Chuang, C. C. Lai, Y. S. Lin, Yeh, P. S. Yeh, "Transition metal doped fiber amplifier" , U.S.A. 7,333,263, Feb. 2008
13. C. C. Kuo, L. M. Lee, Y. C. Cho, S. L. Huang, S. B. Huang, "Method and apparatus for fabricating a crystal fiber" , U.S.A. 7,361,218, Apr. 2008
14. S. L. Huang, C. Y. Lo, K. Y. Huang, S. Y. Tu, H. W. Lee, S. P. Huang, S. B. Yin, "Fiber used in wideband amplified spontaneous emission light source and the method of making the same" , U.S.A. 7,352,949, Apr. 2008
15. S. L. Huang, H. W. Lee, C. C. Kuo, S. B. Huang, T. S. Chou, L. M. Lee, "Method and apparatus for fabricating a crystal fiber by utilizing at least two external electric fields" , U.S.A. 7,258,740, Aug. 2007
16. 黃升龍,黃光瑤,羅家堯, "間接加熱之雙纖衣晶體光纖製造方法" , 中華民國 200811494, Aug. 2006
17. S. L. Huang, C. Y. Lo, S. P. Huang, S. B. Yin, "Micro crystal fiber lasers and method of making frequency-doubling crystal fibers" , U.S.A 20060002433, Jan. 2006
18. 黃升龍,羅家堯,黃光瑤,陳建誠,莊江源,賴建智,林彥盛,葉秉慧, "摻過渡金屬光纖放大器" , 中華民國 200624978, Jan. 2005
19. 黃升龍,高甫仁,吳松峻, "微弱訊號顯微裝置" , 中華民國 I257204, Jun. 2005
20. 郭家彰,李立民,卓裕傑,黃升龍,黃勝邦, "晶體光纖之製造方法及裝置" , 中華民國 I233506, May 2004
21. 黃升龍,周采璇,李立民,郭家彰,黃勝邦,李孝文, "晶體光纖之製造方法及製造裝置" , 中華民國 I249509, Nov. 2004
22. 黃升龍,羅家堯,黃勝邦,殷尚彬, "微型晶體光纖雷射及倍頻晶體光纖之製造方法" , 中華民國 I233248, Jun. 2004
23. H. Z. Cheng,S. L. Huang W. H. Cheng,F. J. Kao,I. C. Her,P. L. Huang, "Two mirror figure "8" ring cavity" , U.S.A. 6,570,904, May 2003
24. S. L. Huang,F. J. Kao,T. S. Horng,W. H. Cheng,T. Y. Tsui,H. Z. Cheng, "Frequency stabilized passively Q-switched laser" , U.S.A 6,335,942, Jan. 2002
25. 黃升龍,高甫仁,洪子聖,鄭木海,崔宗元,鄭慧如, "穩頻式被動Q開關雷射" , 中華民國 127937, Mar. 2001
26. 鄭木海,鄭慧如,黃升龍,高甫仁,何應勤,黃碧鈴, "雙鏡式立體環型共振腔" , 中華民國 128596, Mar. 2001
27. 郭文凱,陳蔚軒,黃遠東,黃升龍, "使用旋轉形變調變系統之向量電場電光探測裝置及方法" , 中華民國 494242 (公告號), Mar. 2001
28. 郭文凱,黃升龍,張良知,鍾炳中,周曉宇,陳文發, "向量電場的電光量測裝置及量測方法" , 中華民國 101038, Jan. 2000
29. 鄭木海,童儒達,黃升龍,洪子聖,高甫仁,蘇怡仁,劉宏孟, "電脈衝式微小型綠光雷射指示器" , 中華民國 157874, Apr. 2000
30. W. K. Kuo, S. L. Huang, L. C. Chang, P. C. Chung,H. Y. Chou, W. F. Chen, "Electro-optic apparatus and method for electric-field vector" , U.S.A. 6,011,402, Jan. 2000
31. 筆式綠光雷射模組, "電脈衝式微小型綠光 雷射指示器" , 國立中山大學, Nov. 1999
32. 黃升龍,羅家堯,許榮宗,黃勝邦,殷尚彬, "微型紅、綠、藍三色光纖雷射" , 中華民國 申請中, Jan. 0
33. S. L. Huang,C. Y. Lo,K. Y. Huang,S. Y. Tu,S. W. Lee,S. B. Huang,S. B. Yin, "Super wideband amplified spontaneous emission device" , 中華民國U.S.A. 申請中, Jan. 0
---
Other publication:
1. 張維, 王譽達, 蔡建中, 許博凱, 黃升龍, "超高解析度光學斷層影像系統之開發整合與圖像處理分析" , 機電整合雜誌, 第143期7月號, 第116頁., Jan. 2010
2. 張俊霖, 黃玠維, 呂柏翰, 李彥葦, 范祐維, 黃升龍, "全光纖高功率摻鐿光纖雷射與放大器" , 光學工程季刊, 104期, Jan. 2008
3. 翁俊仁, 許巍耀, 施至柔, 黃升龍, "綜觀高功率光纖雷射及其相關技術" , 科儀新知, 二十八卷第六期, 第13頁, Jan. 2007
4. 羅家堯, 周采璇, 黃升龍, "高效率掺釹釔鋁石榴石晶體光纖雷射" , 科儀新知, 二十八卷第六期, 第24頁, Jan. 2007
5. 黃光瑤, 陳建誠, 羅家堯, 黃升龍, "超寬頻摻鉻晶體光纖放大器" , 科儀新知, 二十七卷第五期, 第17頁, Jan. 2006
6. 羅家堯, 黃光瑤, 陳建誠, 莊江源, 黃升龍, "雙纖衣摻鉻釔鋁石榴石晶體光纖之生長及應用" , 光學工程季刊, 八十七期,第9頁, Jan. 2005
7. 黃升龍、黃碧鈴、易瑞昀, "雙鏡式環型共振腔在小型固態雷射之應用" , 工程科技通訊,七十四期,第97頁, Jan. 2004
8. 黃升龍、羅家堯、戴忠勇, "雷射及非線性晶體光纖之研製" , 工程科技通訊,六十期,第160-162頁及封面圖片, Jan. 2002
9. 黃升龍, "晶體光纖在雷射及光通訊之應用" , 光通訊與光電半導體元件技術研討會, Jan. 2002
10. 郭文凱、陳蔚軒、黃升龍、黃遠東, "向量電場電光探測技術" , 光訊,八十九期,第24-28頁, Jan. 2001
11. 黃升龍, "淺談固態藍/綠光雷射之發展" , 物理雙月刊,二十三期,二卷, 第346-351頁, Jan. 2001
12. 黃升龍、鄭木海, "小型固態雷射之研發" , 科學發展月刊, 第二十八卷第十一期,, Jan. 2000
13. S. L. Huang, "NSC University-Industry Co-op Project-Compact Solid-state Lasers" , NSC Science Bulletin, 32, No. 7., Jan. 2000
14. 陳蔚軒、黃升龍、郭文凱、黃遠東, "使用旋轉形變調變系統之電場向量電光探測裝置" , 科儀新知, 二十一卷六期, Jan. 2000
15. 黃升龍, "半導體雷射激發之固態雷射在電子工業之應用" , 電子資訊, 第三卷第三期, 第26-32頁, Jan. 1997
16. 黃升龍、謝鴻生、高甫仁, "小型綠光雷射之研製" , 工程科技通訊,二十一期, Jan. 1997
17. 郭文凱、黃升龍, "超快雷射在微波電路量測上的應用" , 科儀新知, 十七卷六期, Jan. 1996
18. 黃升龍、高甫仁, "晶片層級的光學式微波∕毫米波網路分析儀之研製" , 工程科技訊,十六期, Jan. 1996
19. 黃升龍、李齊湘, "超快速光學在微波及毫米波上的應用(下)" , 光訊,五十二期, Jan. 1995
20. 黃升龍、李齊湘, "超快速光學在微波及毫米波上的應用(上)" , 光訊,五十一期, Jan. 1994